7 Practical Tips for Paddle Boarding At Night
Paddle boarding is the kind of sport that one can do at any time. If you are the kind of outdoor enthusiast that constantly seeks adventure, you should try paddle boarding at night. It's a whole new experience than paddling in the daytime. The low light condition certainly adds a special ring to the paddling experience. But going out on the water at night without preparation can handicap yourself so before you try to go paddle boarding at night, there are several tips you should know.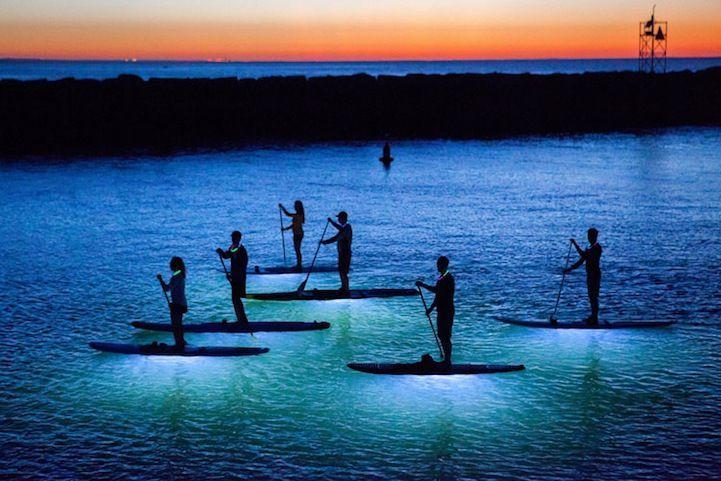 Lighting
It is crucial to make sure there's enough lighting when paddling at night. A flashlight or a lantern will do just fine, but the light should be used mainly when vessels are approaching and not all the time. You should also have another lighting under your SUP board. This is generally a good way to navigate through underwater obstacles and also attract a few marine species, which could be fun to watch.
As a rule of thumb, avoid very bright lights as they may get in the way of other vessels and obscure the vision. Also, be wary of the colors you choose for lighting as some colors may send unintended messages to coast guards. It's also important to have PFD (flotation device) as a means of abiding by the U.S coast safety regulations.


Plan Your Trip
Planning is everything and before heading out to paddle at night, you should know your routes and at least a rough estimate of the return time. Look for places where you can easily park your vehicle or a place near a bus station. Since you'll be paddling at night, consider the wind direction and paddle with the wind to avoid paddling against the wind on your return. The best way to do this is by using islands- they'll easily protect you against strong winds.


Choose Your Location Wisely
If you want to enjoy a proper night paddling, it is important to choose a location with safety in mind. A calm bay or lake is always a considerable option, with some people even going for the empty line-up. Some areas have hourly restrictions, so you'll have to check if your location is accessible at night or if you'll have to pay extra entry charges.


Park Wisely
When prepping for an afternoon paddleboarding, you'll often carry a few supplies, but paddling in the dark requires the important supplies only, leaving other luxuries behind. It is best to carry what you can handle while paddle boarding so that you can have full control of the board. A real life vest, torch, insect repellent, and other crucial medication that you might need. Don't forget a watch with a readable time at low light. You don't want to have too much fun and lose track of time.


Avoid Paddling Alone
When you're considering paddling at night, it's for the best to ask a buddy of yours to tag along. It adds the fun to it while at the same time acts as a backup in times of emergency. Furthermore, who wants to paddle alone in the dark?


Look For Tours
If you're new to SUP, especially at night, you can find evening tours that are available in merchandise spots, hotels, and resorts. These tours are great since they'll provide you with all the proper equipment along with skilled tour guides. It's a great way to get started since most of these tours have certified equipment.


Get Yourself A Proper Paddle
Other than having a suitable stand up paddle board, it's also important to get the right paddle. The type of paddle you'll choose for your evening expedition can make a big difference. Most rentals will have Alloy paddle, which is heavy and lacks flexibility. Carbon fiber paddles, on the other hand, are much lighter and gives you more flex.