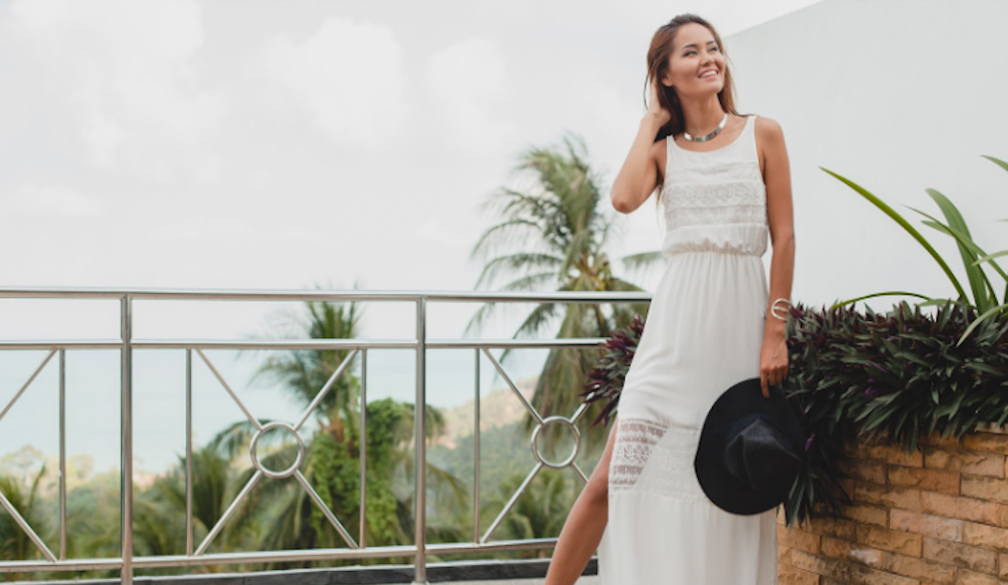 In the world of fashion, trends come and go, but certain styles stand the test of time. One such timeless piece is the vintage black maxi dress. With its graceful silhouette and classic appeal, this wardrobe staple can be a versatile canvas for creating a myriad of looks. 
Whether you're attending a formal event, a casual gathering, or simply aiming for a day of effortless elegance, a vintage black maxi dress can be the key to unlocking your style potential. In this article, we'll explore the art of styling this iconic piece, offering tips and inspiration to help you make a statement with sophistication.
Embrace the Timeless Appeal
The vintage black dress exudes a timeless charm that effortlessly transcends fashion eras. Embrace the nostalgia associated with vintage fashion by selecting a dress that captures the essence of a bygone era. Look for details such as lace embellishments, A-line cuts, or puffed sleeves that harken back to the elegance of the past. The timeless appeal of a vintage black maxi dress lies in its ability to make you feel like you've stepped out of a classic film, creating a sense of glamour and sophistication.
Play with Accessories
Accessories can transform a simple black maxi dress into a statement ensemble. Experiment with accessories to add your unique touch to the outfit. A wide-brimmed hat and oversized sunglasses can instantly evoke a 70s bohemian vibe, while a string of pearls and classic pumps can channel the elegance of the 1950s. Belts can be an excellent way to accentuate your waist and break up the monotony of the solid black, adding a touch of modern flair to your vintage-inspired look.
Layer for Versatility
Don't be afraid to layer your vintage black maxi dress for added versatility. A cropped leather jacket can infuse an edgy and contemporary feel, making the ensemble suitable for a casual outing or a night on the town. During cooler seasons, a tailored blazer or a cozy cardigan can provide warmth without compromising style. Experimenting with different layers allows you to adapt the dress to various occasions while maintaining an air of elegance.
Footwear Matters
The right pair of shoes can elevate your vintage black maxi dress from casual to chic. For a bohemian touch, consider styling the dress with ankle boots or sandals adorned with intricate details. For a more polished look, opt for classic pumps or strappy heels. The key is to balance the dress's length with the height of the shoes, ensuring a harmonious silhouette. Experiment with different styles to find the footwear that complements your overall aesthetic.
Mix and Match Textures
Playing with textures can add depth and visual interest to your vintage black maxi dress. Consider layering a faux fur stole over your shoulders for a touch of luxury or opting for a dress with velvet or satin accents for a sumptuous feel. Mixing textures allows you to create a multidimensional look that captures attention and emphasizes the timeless beauty of the dress.
Hair and Makeup
The right hair and makeup can complete your vintage-inspired look. Soft waves, a sleek updo, or a classic chignon can enhance the dress's elegance. When it comes to makeup, a bold red lip can add a touch of glamour, while soft, natural tones contribute to a more understated and classic aesthetic. The key is to find a balance that enhances your features without overshadowing the dress's inherent sophistication.
Consider the Occasion
Adapting your vintage black maxi dress to the occasion is crucial for a seamless and appropriate look. For formal events, opt for refined accessories and polished hair and makeup. A vintage black maxi dress with a high neckline and lace details can be particularly suitable for weddings or cocktail parties. On the other hand, a more relaxed gathering allows for playful accessories and a laid-back hairstyle. Consider the dress's features and choose accordingly to strike the right balance for the occasion.
Confidence is the Ultimate Accessory
Regardless of the specific styling choices you make, the most important element to carry off a vintage black maxi dress is confidence. Elegance is not just about what you wear; it's about how you wear it. Stand tall, carry yourself with grace, and let your confidence shine through. A vintage black maxi dress is a canvas for your self-expression, and wearing it with confidence will undoubtedly make a lasting impression.
Conclusion
Styling a vintage black maxi dress is a delightful journey into the realms of timeless elegance and personal expression. By embracing the dress's inherent charm and experimenting with accessories, layers, textures, and more, you can unlock its full potential for any occasion. Whether you're channeling the glamour of the past or infusing a modern twist, the versatility of a vintage black maxi dress makes it a must-have in every fashion-conscious individual's wardrobe. So, go ahead, unlock the elegance, and let your style speak volumes with this timeless piece.