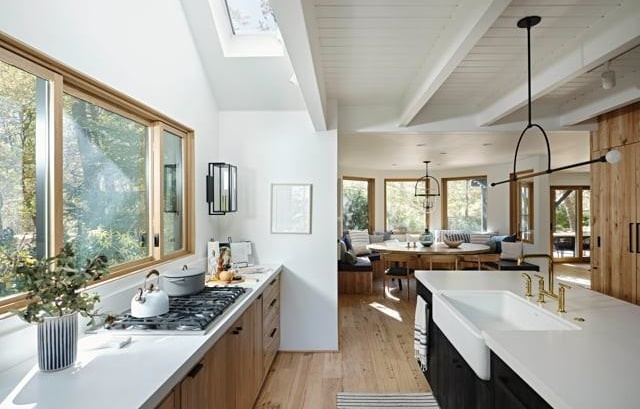 A kitchen is what adds life to your home, and it is also where the seed for a healthy lifestyle is sown. What begins in the kitchen, radiates through your entire household and therefore to make way for healthy living, designing your kitchen smartly is of utmost importance. So, when renovating your kitchen or building one from scratch, you need to design it in a way that it becomes the hub for all things healthy. And now the question is how do you do that? How does one design their kitchen for a healthier lifestyle? So, sight tight and let's find an answer to this question with our team of experts who have undertaken the best kitchen makeovers in Sydney.
Make Your Kitchen a More Sociable Place
Today, a kitchen is not just where you cook but also a social zone where you spend time with your family and friends. Engaging in everyday conversations while you wait for your microwave's beep is the definition of quality family time these days. To bring this picture to life, you need a spacious kitchen with ample space for people to sit down together and interact. Therefore, rather than a closed kitchen, there is an increased shift towards an open one with an attached dining or living area.
As they say, a family that laughs and eats together stays together. And in this everyday busy lifestyle where we don't spend much time at home, it's only while cooking and in between meals that one gets to interact with their loved ones. So, to make the best of this time, your kitchen's layout should be such that it can accommodate interactions within its space. That's why we recommend you go for an open kitchen and make your kitchen a part of your living or dining area rather than building it in one detached corner of your home.
Make Way for Natural Light
When you are talking about a healthy living environment and a healthy lifestyle, there will always be a mention of natural light and so is the case when it comes to your kitchen. Why? The reason for this is not one but many:
* If your kitchen has openings from where natural light could enter, it will take the aesthetics of your space a notch higher without having to put extra effort.
* The more natural light, the more energy-efficient your kitchen would be. You wouldn't have to rely on artificial lighting throughout the day but have natural light brighten up your kitchen space.
* Natural lighting makes your kitchen more cosy, warm and inviting. So, it might make your switch to healthier eating habits easier.
So, what you can do is design your kitchen with a lot of windows. A kitchen skylight could also be a beautiful addition to your home and even a good natural source of light.
Go Big With Your Pantry
Are you also someone who feels this strong urge to cook when they see all sorts of ingredients lined up before them? If yes, then a spacious pantry is a must-have for your kitchen. And if your kitchen is always stocked with all the ingredients, veggies, oils and sauces of your choice, you can easily curb the urge to go out and eat junk. An empty kitchen on the other hand would invite all kinds of junk into your home. So, always design your kitchen with a pantry big enough to store everything you have and then fill up that space slowly to shift to a better and healthier lifestyle.
Opt for a Fully Functional Kitchen
A fully functional kitchen is A1 in terms of layout, design, appliances, storage space and lighting and all of these elements together create a space that will become the "heart of your home". An open floor plan, a kitchen island big enough to be a serving area or a space where you can pour your favourite cocktails, create enough storage space to satisfy your organisational streak, and all the necessary kitchen appliances make a fully functional kitchen.
And to put it simply, a kitchen that accommodates your family's living habits is key to a healthy and comfortable household. And a fully functional kitchen does the job. So, make sure that you properly consider your family's needs and lifestyle choices and plan your kitchen accordingly.
Some must-have kitchen elements for a healthy lifestyle are:
High-End Appliances.

Compost Bin

Water Purifier
Pick Durable & Easy-to-Clean Materials
Healthy is synonymous with clean and if you have to pick one area in your home that should never be dirty, it would be your kitchen. But at the same time, your kitchen is the most prone to stains of all kinds and therefore you need to put extra care into designing a kitchen which is easy to clean. And this is also how you will design a kitchen that paves the way for a healthy lifestyle.
Tips to Design an Easy-to-Clean Kitchen
* Make sure that you don't place your light fixtures close to your stove as there they would be exposed to stains and grease and cleaning them is not an easy task.
* Don't leave any space between your cabinets and ceilings because dust and dirt find a home for themselves in such corners.
* Always go for an under-mount sink because then you won't have to worry about waste getting stuck in the corners.
* Use a kitchen backsplash near your cooking area to avoid stains.
Incorporate these tips into your kitchen design and what you will end up with is an easy to clean kitchen which will keep all germs at bay.
This was our guide on designing your kitchen for a healthy lifestyle. If these are the elements you look for in your kitchen or have some special requirements, you can reach out to our experts at Inspired Kitchen and have them craft the kitchen of your dreams. Reach out to us today.