How to Control Airborne Dust? 4 Dust Suppression Methods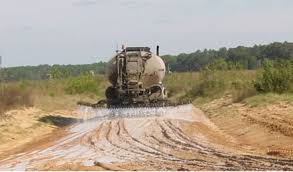 To enable the progression of trade and commerce, sustainable road infrastructure is vital. Road construction provides access to resources and markets, resulting in increased job opportunities and socio-economic development.
Yet currently, the construction of roads is a challenge for many developing countries. Many roads in such areas are unsealed, creating hazardous living conditions. In such cases, dust suppression solutions and soil stabilization products are necessary for managing uncontrolled airborne dust.
The importance of dust suppression
Unpaved or unsealed roads contribute to several natural hazards such as airborne dust.
Large amounts of airborne dust can negatively affect the individual safety of road users. Left unmanaged, dust particles can increase accident potential due to loss of visibility and road integrity.
Dust also represents a severe health hazard. Anyone exposed to dust, particularly for long periods, are at risk of developing long-term respiratory problems such as asthma, lung cancer, silicosis, and chronic obstructive pulmonary disease (COPD).
From an environmental standpoint, high levels of dustfall can induce detrimental changes to surrounding vegetation and aquatic resources. Accumulated dust particles decrease vegetation productivity and can cause respiratory stress in pets, livestock, and native animals.
While water is the most widely utilized dust control or suppression agent to date, there has been some significant progress in the chemistry and engineering of dust suppressants.
Road dust control solutions
Untreated surface roads are a serious nuisance, affecting the quality of life of surrounding communities and the natural environment. Roads in such conditions also become a cost concern. The more vehicles that drive on untreated roads, the more maintenance is required.
Considering a significant portion of road networks globally are unpaved, and therefore, in disrepair, efforts to control road dust are significant across numerous regions and countries.
Below, we list the four most effective dust control and suppression products available on the market today:
When sprayed onto dust-generating surfaces, polymer-based dust control solutions act as a binding agent, practically eliminating dust on a road surface. Studies have shown that a polymer seal can suppress 99% of dust particles and mitigate dust for up to four months.
What's more, when soaked into the road, this specially formulated dust control technology creates a stable, durable surface layer that is resistant to traffic wear, rainfall, and severe environmental conditions, improving road surface rideability.
Long-chain liquid polymers can also provide a benefit for unsealed industrial applications such as mining and quarry haul roads. These polymers drive down the use of water used for dust suppression by many times and provide safer visibility conditions for drivers, and reduce respiratory hazards for workers and nearby communities.
As a waterless dust control product, synthetic fluid works best in the most demanding surface stabilization situations and where watering programs are limited. This synthetic fluid application has been formulated to absorb into soil particles, preventing any dust from becoming airborne.
Synthetic fluid's unique formula means this dust control solution can remain active on treated road surfaces for up to 12 months. Being non-drying and non-setting also means the product is a re-workable solution that is capable of resisting extreme weather conditions, and can handle constant heavy-duty traffic.
And just like the polymer-based solution, synthetic fluid is non-hazardous and environmentally friendly, making it safe for humans, animals, and vegetation. The synthetic liquid is also completely odorless, allowing it to meet the most stringent environmental regulations.
Fine dust (the type of fine dust particles that can be found on untreated road surfaces) is, by nature, hydrophobic. This means that the use of traditional sprayed water is ineffective because at the microscopic level, these fine particles just repel water.
To circumvent this issue, water-based solutions must be specifically engineered to overcome the surface charges. The application of ionic surfactants, along with their amphiphilic nature, charges water-sprayed solutions which enable the water agent to penetrate into and bind with dust particles.
The use of super-activated water immobilizes fine fugitive dust, stripping hazardous particles from the air – also making it ideal in water spraying in mining, quarrying, earthworks and demolition. Such an effective dust suppression solution can even be used with other surface stabilization options to enhance its dust suppression performance further.
Organic materials from green feedstock such as plant oils can also treat unpaved road surfaces, weighing dust particles down and preventing them from becoming airborne.
The chemical composition of this synthetic dust suppression product offers short- to medium-term treatment performance. Once the product penetrates the road surface, the surface becomes safe to drive.
Organic solutions work with a variety of road surfaces, from gravel and sand to most native soils, and come with superior workability properties. As natural products, they are highly biodegradable – which can be ideal in sensitive or short-lived applications.
Conclusion
By treating surface roads with any of the viable solutions above, dustfall can be effectively mitigated and road stabilization can be realized. What's more, because each of these dust control products has been designed to be inherently safe, its usage does not impact the natural and built environment.
These innovative dust control technologies go beyond reducing the issue of dust kicked up by untreated and unpaved roads. By weighing down dust particles securely like water, undeveloped and hard-to-reach regions can positively influence socio-economic factors, paving the path towards progress.