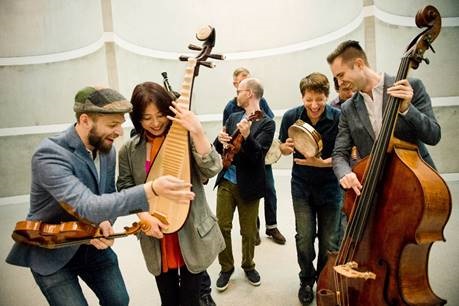 The international musicians of Grammy Award-winning super group Silkroad Ensemble will perform their genre-defying music in Brisbane for the first time at Queensland Performing Arts Centre (QPAC) on Thursday 7 March 2019.



For one night only in the Concert Hall at QPAC, extraordinary musicians from around the world will present a never-to-be-seen-again concert converging centuries, continents and cultures.



Drawing on a rich tapestry of traditions, nationalities and instruments including tabla, bagpipes, shakuhachi and strings, audiences can expect a repertoire including popular jazz, traditional Vietnamese, Chinese and Kazakh music; Finnish folk song; Jugalbandi (Indian classical) and much more.



Described as "vibrant and virtuosic" by the Wall Street Journal, superstar cellist Yo-Yo Ma founded Silkroad Ensemble in 1998 as a radical experiment seeking to understand the fear and insecurity sparked by globalisation. Bringing together musicians from many corners of the Silk Road to co-create a new artistic idiom, the ensemble creates a musical language founded in difference and collaboration, a metaphor for the benefits of a more connected world.



A collective of virtuoso musicians from over 20 countries, Silkroad Ensemble's work is a vibrant, passionate and ecstatic celebration of world music, both instrumental and vocal, performed by outstanding contemporary musicians representing dozens of disciplines and artistic traditions.
The lineup of nine extraordinary musicians coming to QPAC includes two of Silkroad's co-artistic directors Jeffrey Beecher on bass and multi-percussionist Shane Shanahan, together with internationally acclaimed Galician bagpipe master and classical pianist Cristina Pato, pioneering cellist Mike Block, multi-talented percussionist Mark Suter, Indian tabla player Sandeep Das, violist Mario Gotoh, Wu Tong, who has played the sheng and suona since he was five, and Kayhan Kalhor who is an internationally acclaimed virtuoso on the kamancheh (spiked fiddle).
Advertisement
The performers, who are internationally leading teachers, producers and music advocates, take time off from playing with the world's best orchestras and pre-eminent music academies to tour the globe with Silkroad Ensemble.
Silkroad Ensemble has recorded seven albums with its most recent, the Grammy Award-winning, Sing Me Home, developed and recorded alongside the 2016 documentary feature about the ensemble, The Music of Strangers.
QPAC Chief Executive John Kotzas said bringing globally renowned artists such as Silkroad Ensemble to Brisbane is part of the Centre's ongoing commitment to bringing the best international live performance events to Queensland audiences.
"Music is a universal language we can all understand. It brings people together, evokes emotion and connects cultures and can help us all understand the world we live in and Silkroad Ensemble was founded on this very philosophy," said Mr Kotzas.
This is an exceptionally rare opportunity to experience the exhilarating, world-class artistry of Silkroad Ensemble here at QPAC."
Don't miss the one-night, one-off concert from Silkroad Ensemble here in Brisbane at QPAC on Thursday 7 March 2019. Tickets are on sale, for bookings go to qpac.com.au or phone 136 246.
"One of the 21st century's great ensembles."
Vancouver Sun
"(A) roving musical laboratory without walls."
Boston Globe
QPAC in association with Arts Projects Australia Presents: Silkroad Ensemble
WHEN:                                                                       Thursday 7 March 2019, 7.00pm
WHERE:                                                                     Concert Hall, QPAC, Cultural Centre, South Bank, Brisbane
TICKETS:                                                                  qpac.com.au for current pricing
BOOKINGS:                                                              qpac.com.au or 136 246
For more information and content please click here.
The Queensland Performing Arts Centre (QPAC) is located within Queensland's vibrant cultural precinct at South Bank, Brisbane. The Centre is focused on creating a world where the performing arts matter to everyone. Welcoming around 1.5 million visitors and presenting over 1300 performances annually the QPAC experience extends beyond the theatre with a range of unique spaces to eat, drink, and enjoy free live entertainment. Visit www.qpac.com.au to learn more about Queensland's Centre for live performance and the range of exciting events and initiatives on offer year round. To come a little closer to QPAC find out more about QPAC Membership here.