What is St Patrick's Day and why do we celebrate it?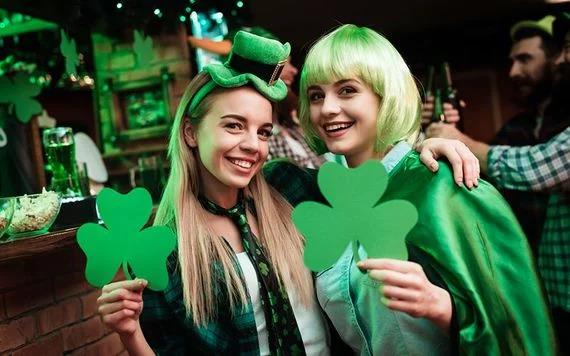 On the 17th of March of every year, the streets of Ireland (and Australia) are flushed with vibrant colours of green and gold in celebration of St Patrick's Day. Any Aussie with a hint of Irish heritage (and even those without), thrill with excitement over the opportunity to celebrate.
Part of the festive event involves clichéd parades roaming the streets filled with stereotypes such as leprechauns, shamrocks, mass use of the colour green and you'll find many pints or sevens in your local Irish pub.
For those who have scratched their heads wondering what St Patrick's Day is all about, here are the historical details you need to prepare yourself when gathering four-leaf clovers and your bright green stockings for the occasion.
Who is St Patrick?
Believed to be born in AD 387 somewhere in the Roman Empire, St Patrick isn't technically Irish. With an original name of Maewyn Succat, he was kidnapped by Irish pagans around the age of 16 and taken to Ireland where he was enslaved for 6 years.
When working as a herdsman, he found God among the sheep. Maewyn Succat discovered an affinity to the Irish spirit and vowed his return to Ireland when he managed to escape his imprisoners to return to his family.
In his home country, he became a priest and adopted the Christian-Roman name Patricius which was later known as Patrick. After some time as a priest, Patrick was ordained as a bishop.
He returned to Ireland in his 30s with a mission to convert the pagan Irish to Christianity. Over the next three decades, it is rumoured that he travelled all across Irish lands establishing monasteries, schools and ordaining priests to spread the teachings of Christ.
Now the story isn't exactly what you might have pictured it to be with no dancing leprechauns or lucky sevens, but it certainly does have some charm to it with a happy ending.
So what does St Patrick's Day actually celebrate?
The global celebrations of St Patrick's Day focus on the Irish culture stemming from the good deeds carried out by St Patrick during his efforts to spreading the word of Christianity in Ireland in the 5th century.
St Patrick's Day has made its mark as a national holiday in Ireland (established as a bank holiday) and Montserrat in the Caribbean, an island founded by Irish refugees.
Why all the green?
Not many people know that the original colour of St Patrick's Day was blue with St Patrick himself showing preference for it.
Many historians suggest that blue was replaced by green due to Ireland's nickname of The Emerald Isle. It is also said that the green stripe on the Irish flag played a role in persuading the colour change with the green part of the flag representing the Catholics of Ireland.


St Patrick's Day costume ideas
Now comes the fun part. The true spirit of St Patrick's Day is demonstrated by those who wear it on their sleeves! From head to toe outfits or St Patrick's Day accessories to complete the look, you'll find pretty much anything green goes on the 17th of March.
Leprechauns
One of the most popular St Patrick's Day costumes, leprechaun costumes display an epitome of Irish spirit. With a versatile range of outfits suiting both men and women, there's plenty of fun ideas to make the most out of a leprechaun costume. Think a pot of gold at the end of the rainbow or one of those Carry On Leprechaun suits giving the illusion of a Leprechaun carrying you.


Beer bottle
If there's one thing the Irish are well-known for, it's definitely their drinking culture followed by classic Irish pubs, lager and ale. So why not take the show on the road by dressing up as a beer bottle on St Patrick's Day? With modern designs allowing you to stash your beers to go, you'll skip the middle man and party the night away!



Lucky Charm
These sparkly green Shamrocks work better as an accessory paired together with your green outfit. It keeps the good luck flowing all throughout the day.