Money Heist Becomes a Surprise Hit in Australia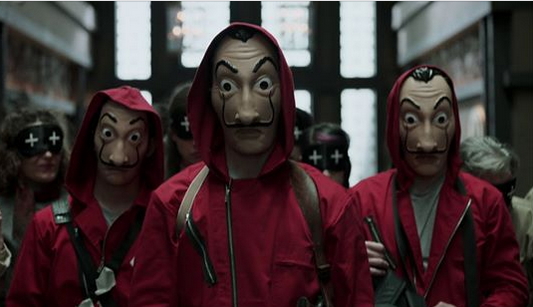 The Spanish series La Casa de Papal, otherwise known as Money Heist among English-speaking audiences, has been an unprecedented success for the entertainment platform Netflix. It's interesting to see that foreign-language content is continuing to do well in Australia since the establishment of a local HQ and the connected drive for more local content. Money Heist itself is the most popular foreign language show on the streaming service, beating other sensations like Dark and Trapped, and has been extremely well received among Australian audiences. Indeed, it made the top ten most-watched titles in the country in April 2020, alongside the likes of Tiger King: Murder, Mayhem and Madness, and Ozark.
How did Money Heist Attract Such Massive Audience Figures?
When La Casa de Papal first aired on Spanish network Antena 3 in 2017, it was met with a lukewarm reception in the country. Netflix quickly picked up the show and re-cut it into 22 shorter episodes and released them over two parts. It swiftly became a global sensation. The innovative idea about a team of robbers printing their own money, the unique storytelling, and the use of a compelling female lead in Ursula Corbero as Tokyo, all contributed to the success of the series.
To those who haven't seen it, the best way to describe Money Heist would be a cross between Prison Break and Ocean's Eleven. The series is packed full of twists, turns, cliff-hangers, and thrills, while at the same time intelligent with audacious plots. The characters are rich and deep, as well as being extremely well cast. The series is best enjoyed in its native tongue with subtitles, but Netflix also gave viewers the option to listen to a dubbed audio track in various languages. This could have helped boost its global appeal.
Money Heist tapped into a Netflix audience who were already happy to watch a number of other foreign language series and films. There have been numerous non-English success stories on the streaming network including Angelina Jolie's First They Killed My Father and Robin Aubert's Les Affames.
Could Money Heist Become a Bigger Franchise than Narcos?
Money Heist is already becoming as big a sensation as Narcos, another series which is predominantly in a foreign language and has been an overwhelming success. The series created by Chris Brancato, Carlo Bernard, and Doug Miro is quickly becoming a major franchise to rival other landmark series like Game of Thrones and The Witcher. Along with the original Narcos series, there is the spinoff Narcos: Mexico, which has already run for two seasons, while it has also expanded into other sections of the entertainment industry. For instance, there is the Narcos slot from NetEnt which is one of the front page offerings at some online casinos, where the characters from the series and a Pablo-like voice set the mood. Then there is the Narcos: Cartel Wars mobile game for Android devices or available in the Apple Store, which also serves as an accompaniment to the series.
This massive growth has happened at an astonishing rate since the release of the first season of Narcos in 2015, and the same thing could be about to happen with Money Heist. Games based on the Spanish series would doubtlessly attract a lot of players, as the heist theme has been extremely popular in blockbuster hits such as Grand Theft Auto V. The only notable Money Heist game to date was a special mini-event for Tom Clancy's Rainbow Six Siege which was available for Australian PS4 players in November 2019. But due to the popularity of this, there could be more offerings to follow. Permeating other sectors of the entertainment industry would be a good way for Money Heist to gain even more recognition and continue its global dominance.


What Next For Money Heist?
Other than expanding the franchise into diverse media, there is the potential for many more storylines in the thrilling Spanish action. For it to keep attracting viewers, though, it will need to stick to its tried and tested formula of staging a different heist over two eight-episode parts which are released within a year of each other.
There has been talk of a fifth part for some time and, according to Boss Hunting, it is already confirmed. The outlet claims that this has been verified by the show's director, Jesus Colmenar. The creator of the series, Alex Pina, has also previously teased the potential for a number of spinoffs related to the series. With the vast number of interesting and intriguing characters in the show, there are various paths that the writers could find themselves going down when it comes to fresh content.
After the unprecedented success of Money Heist, it's highly unlikely that Netflix will allow such a beloved series to end after four parts. The masses of people that watched it in Australia can, therefore, look forward to new heists and potential spinoffs which may lead in different directions. In addition to that, it wouldn't be surprising to see the franchise blow up and spill across into other media as well.