In September 2022, Studio Moso shines with new Mount Baw Baw website redesign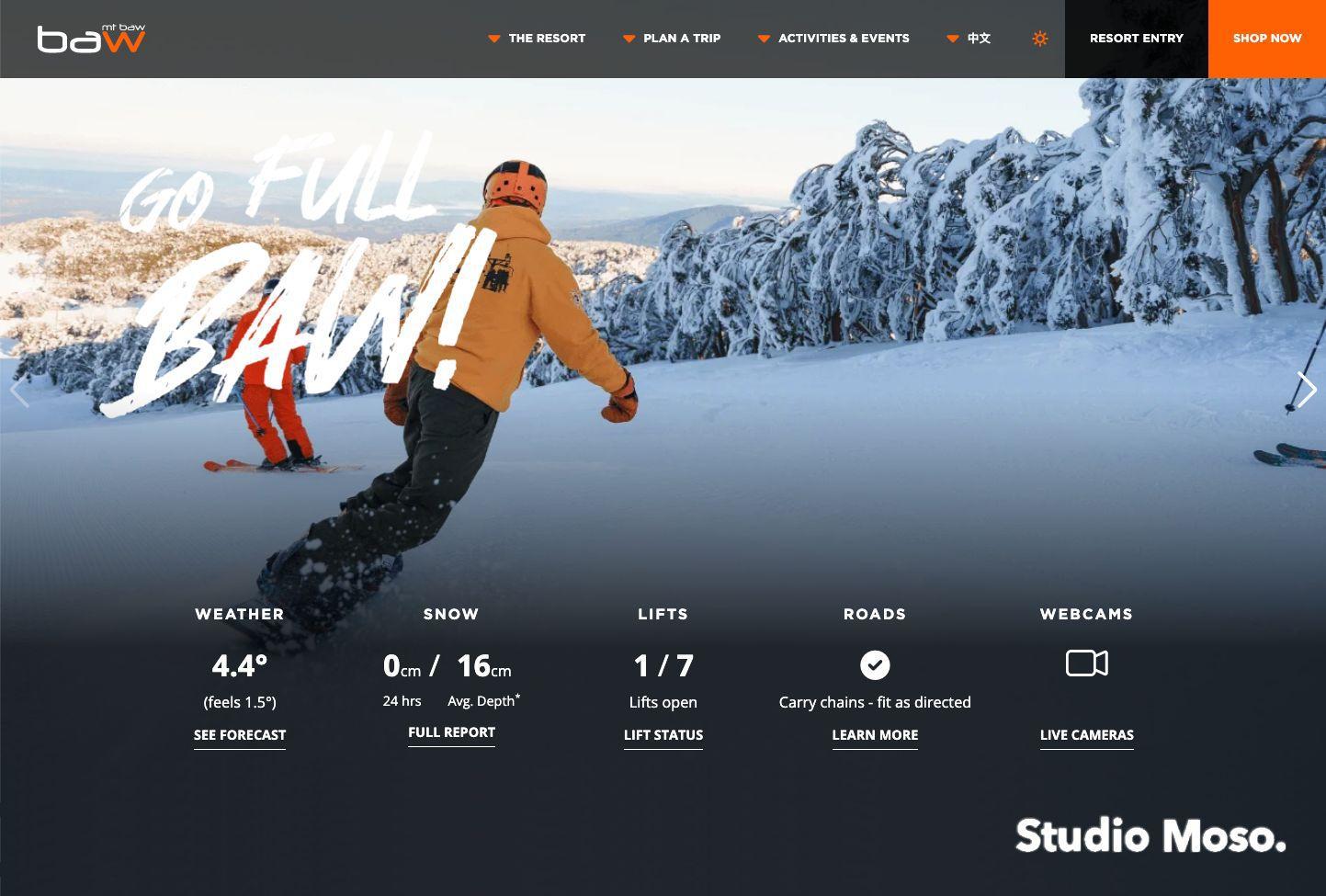 Studio Moso, a leader in web design and development in Melbourne, announces the success they've had after working with Mount Baw Baw.
Studio Moso has worked with Mount Baw Baw to reinvigorate and overhaul their website for the Winter Season here in Australia.
Through the process of rebranding, we've been able to help Mount Baw Baw create a more contemporary and appealing website that will resonate with a wider audience.
Our goal as a studio to create unique customer experiences and improve with each project shines through with this one.
The objective for the new branding and website was to better reflect Mount Baw Baw's unique positioning as the leading alpine destination in Victoria. This was achieved by creating a new website and visual identity that is inspired by mountain landscapes, and removing bottlenecks along the customer journey.
The new branding also introduces a more modern colour palette and typeface to further assist in giving Mount Baw Baw a fresh new look.
About Studio Moso
Studio Moso (a web development company based in Melbourne), that has been providing customised branded web applications, social media applications, mobile applications, and content management solutions to clients of all sizes since 2004.
We're experts in web application design and creating custom experiences for our clients.
Recently we've gone a brand overhaul ourselves with the launch of a new website and identity to align with our growth as a studio. The new branding allows us to position our work amongst the best of the best, and fight for coveted clients that will move the needle.
The Mount Baw Baw project
The Mt Baw Baw Alpine Resort offers skiing, snowboarding, as well as tobogganing in Victoria. It's become one of the leading resort and tourist spots in the state and this previous Winter has marked the first winter that Victorians haven't been locked down.
The newly designed website aimed to make booking a trip easy for customers in hopes of getting more online traffic. Mt Baw Baw is gorgeous and well-known for its scenery, so it was essential that the website reflected that through its visuals.
"We kept our website design simple so that users could easily make a reservation at the resort without any trouble." says Studio Moso
The website features daily snow measurements, temperature, the number of lifts available, and live webcam feeds easily accessible from the homepage.
The overhaul and website rebranding is one of the main goals, but increasing conversions and generating new business for the resort has been the overarching project goal.
The future is bright for Studio Moso
Led by Managing Director Paul Matteo, our studio is able to work towards creating custom experiences and we have a team that not only builds incredible experiences, but is able to innovate as well.
"Our design team's diverse expertise will guide the innovative choices that will make sure your brand is communicated effectively and delights users." says Studio Moso.
With multiple awards, website features and site of the day winners on Awwwards, the future is very bright.
Keep your eyes open for more updates from the Studio Moso team.