5 Tips to Choose The Perfect Engagement Ring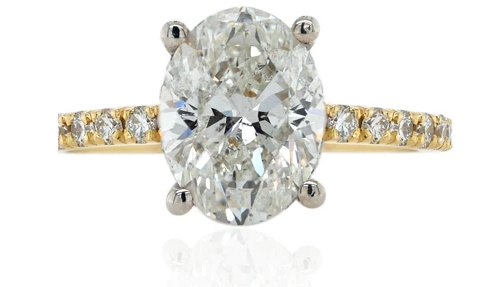 You're now certain that she's the love of your life. What better way to seal this resolve than putting a ring on her finger?
A wedding proposal is truly one of the most memorable moments of one's life. It marks the beginning of a new life chapter with your future spouse. Naturally, you would want to be constantly reminded of this promise of forever.
Rings are the tangible form of this milestone—a reminder of her sweet yes. But precisely because it means so much to you as a couple, it becomes challenging to find the ring that will perfectly fit your love story.
Whether you're planning to go ring hunting alone or with your future life partner, you might find these 5 tips to choose the perfect engagement ring a life saver.


Determine your budget
It's easy to get caught up in the romance and immediately buy the most beautiful ring out there. But, this impulsiveness might come back to bite you.
Let's be honest. An engagement ring is a considerable expense. Spending beyond your financial capacity would only give you and your spouse stress in the future. 
Budget setting does take a bit of the romance out. But, it will prepare you and your bride-to-be for the future. Remember, purchasing an engagement ring is just the initial step towards a more complex married life.


Know your fiancé's style
It's tempting to generalize women's jewellery preferences. But, in reality, each woman has a unique taste when it comes to these things, including your fiancé. Women's engagement rings are even more personal.
Does she like gold? Sapphire? Diamond?
Try to observe more of her style. This will not only save you time from selecting the right piece, but it also says a lot about how much you pay attention to her needs and wants—a definite plus point for thoughtfulness.


Understand the 4C's 
Once you've identified your budget and her preferences, we can now go through the technical side of choosing an engagement ring.
First, you have to understand the quality grading system of gemstones, especially for the most popular one—diamond.
White diamonds are graded based on the following properties:
Cut: This refers to the diamond's facet proportions. Since these affect the return of light to the observer's eye, this property determines a diamond's "sparkle" or brilliance.
Colour: High colour grade refers to seemingly colourless diamonds. Colour is graded by the Gemmological Association of Australia from D to Z, D drawing the least colour. The G-I colour grades are nearly as colourless as the higher range but are less expensive.
Clarity: This property evaluates the presence of markings and inclusions in a diamond. Diamonds with a clarity grade of VS2 or SI1 are cheaper but just as clear as the higher grades to the naked eye.
Carat: It refers to the diamond's weight. One carat is equivalent to 200 mg.


Consider customising
Customising a ring has three main advantages. First, you'll work directly with the jeweller. This means that you get to decide which design to follow and check if the materials used are high quality.
Second, it can be cost-effective. You might think that customising is costly, and it really is. But, if you think about it, you get to choose which gems to use with customisation. Instead of buying an expensive premade diamond ring, you can dedicate a portion of your budget to customisation and the other on equally brilliant but cheaper gems like alexandrite, sapphires, and emeralds.
Lastly, your ring is one of a kind. Jewellery stores have beautiful rings, but their beauty pale compared to a ring specially made for someone special.


Ask for help
Preparing the perfect engagement ring can be overwhelming. Ask your married friends and relatives for suggestions. They might know trustworthy jewellers. You can also ask your fiancé's close friends. She might have shared with them her ring preferences already.


Conclusion
Engagement is a life-changing endeavour, and a ring is a testament to your love that led to this moment. Hence, its selection process shouldn't be a source of stress and worry. Follow these tips, and you're sure to pull off that perfect proposal.