Know all about cushion cut diamond ring before you put them on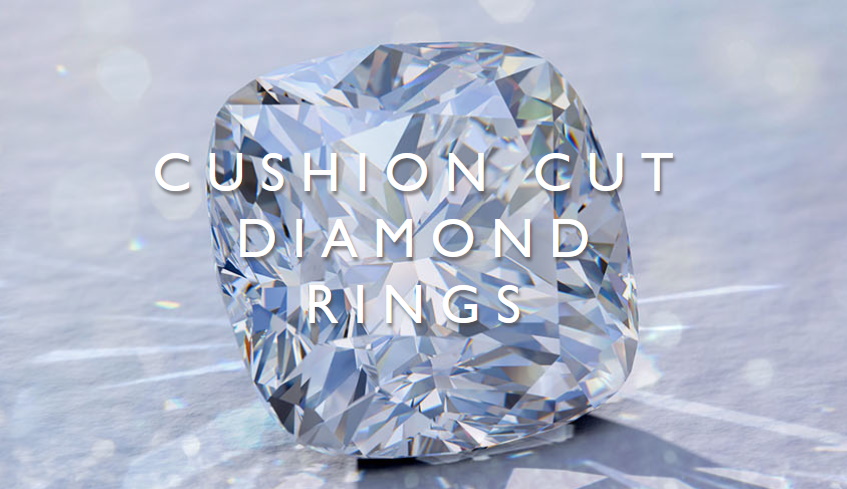 So, times have come when your mind has leaned towards the graceful lawns of diamonds, their glimmers and their grace. But because the lawn is novel and terms are many, you are getting confused. Many cuts, many shapes, many colors and combinations! And one such confusion has come before you in the name of Cushion Cut diamond. We empathize in totality and thus are here for you.


The history of Cushion cut diamond ring.
Diamonds are not very new, but diamond cutting tools have evolved. The vintage style cushion cut finds its root back in the 18th century. There it was called as mine cut, today old mine cut. It was thriving upon the minds of people back then from the early 18th to late 19th century. Its shape was like some square with slightly curved sides. And then came the European cut. What was the difference? The Old European cut was round and had a shallower pavilion. A pavilion is the bottom coned part of the diamond that starts below the diamond's girth. A girth is the widest part of the diamond.
So cushion cuts these days take their inspiration from the old mine cuts. Now the improved diamond saws and lathes, and improved technology have served freedom to the creative minds of lapidaries. Thus is why we see brilliance showering around.

Understanding Cushion cut!
It is not a one-word definition. The boundary of cushion cut is a little faint. This is why it sort of oscillates between two shapes – rectangle and square. The corners of these cuts are roundish and not edgy. The length to width ratio keeps on shifting.
The Elongated Cushion Cut – where the shape is slightly rectangular with curves around.

The Square Cushion Cut – where the shape is squarish.
Is this it? No. Now the anchor of curiosity falls at the look of surface area with facets and prongs. People either go for a crystal clear look with clear edges, or they go for a look that seems like crushed ice. The crushed eye look offers more brilliance. Brilliance in diamond works is how much light gets radiated. So crushed ice will give you more sparkles. Another benefit is that you might go for low clarity scale because the surface will hide the blemishes and inclusions.
The clear faceted cushion cut diamond will have more fire to it. Fire in diamond's terminology resembles the flares or rainbows that get radiated off the diamond. So if you like colors, cushion cut is for you.
An expert lapidary will be able to carve your diamond in such a way that your low carat diamond would seem like some diamond with higher carats. How? Carat resembles weight of a diamond. 1 carat equals 0.2 gram. A 5 carat will equal 1 gram. If you cut a 5 carat diamond in a way that the surface area is more and the pavilion is shallower, then you can attain this feat.

Cushion cut vs Princess cut!
Many people tend to sigh when it comes to comparing a cushion with a princess. No. Not that way. A cushion cut has rounder edges while a princess holds sharper edges. But sometimes prongs hide the sharp edges.
Another difference is of the shape. A princess cut will always be square shaped.