Taking A Break from social media: How to Delete your Account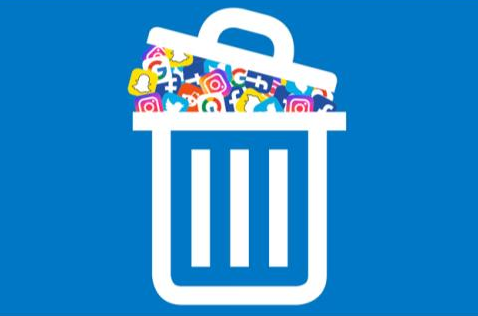 There comes a moment in our evenings or afternoons when we've exhausted all of our imagination and productivity. We're in desperate need of a break. Our brain and body, as much as our writing, make it abundantly apparent. Whenever we need a break from social media, can we ever receive the same signals? To be sure, the topic seems to be a little awkward to explore.
After all, we are social media users! So taking a break from social media appears almost inappropriate. Still, we doubt how most of us had similar thoughts or emotions in the past.
We thought we'd share some of the thoughts that may go into hitting pause, taking a rest, or leaving a social media network. Every one of us is likely to face unique situations. So we're expecting that this article may spark some interesting debate. In our experience, taking a social media break occasionally is beneficial. Here's how you can do that.
Humans Are Social Animals
Humans are social creatures. We need the care, respect, and company of others to survive in daily life, as well as the quality of our relationships, which has a huge impact on our mental health and
pleasure. Being socially connected with people may alleviate everyday stress, worry, anxiety, and depression, boost self-esteem, calm, provide comfort and pleasure, support overcoming difficult circumstances, and sometimes even increase ages to your life.
Conversely, on either side, a lack of solid social networks may stance a real threat to your emotional and psychological well-being.
Social Media Drawbacks
When you're wasting a burst of energy and hours on social media, while experiencing feelings of difficulty, disappointment, discontent, or despair, it may be a good time to rethink your online involvement and find a better combination to maintain things in balance.
Simultaneously, social media offers incredible benefits for growing a company, increasing brand awareness, and increasing commitment.
It is also helpful for keeping in touch with loved ones who live in other countries; you can communicate with them while also being informed about global events.
Extreme Social Media Use
However, what will the price be in the long run, especially if used without appropriate structure and balance of social media? What was the most important thing you performed in the first half of the day after waking up?
Judge or monitor yourself, so if the statement is true, you looked at your phone and viewed all your social media apps in the beginning. Thus, you might need a real vacation from social media.
If you're connected to social media, reducing or discontinuing all contact with it may not be as easy as it seems. However, it's essential to take a break from social media since studies indicate that spending a great deal of energy online may increase tension, anxiety, and frustration.
Many individuals would not admit it. They may be unaware of how much this social media usage means and has been recommended to them. Since 2008, social media has become an important part of our lives.
We use Facebook, Twitter, Instagram, YouTube, Tiktok, Snapchat, and other platforms to get attention, build community, and generate revenue. The following is a guide on deleting various social media accounts:
Detox from social media
Completing your first online media detox may help you better your life. Let yourself repeat: Taking a break from every social media app may alter and make a significant difference in your life. To take a break from web-based media, you must deactivate all social media profiles, plan activities, and concentrate on your self-reliance with various exercises you like.
There is no fixed amount of time you must be away from social media for taking a break that lasts longer. Weeks or months may all be beneficial to your health and happiness. Because these individual social media connections are known to pull you in and make you reliant, it's simple to find out how to take a break from such online media by deleting your social profiles from various platforms.
Deleting A Social Media Account
Social media sites such as Facebook, Twitter, Instagram, Snapchat, Youtube, Tiktok, and Pinterest, are designed to provide a fun and pleasant way to interact with people.
If you discover that it isn't a source of pleasure and comfort in your life, it may be a sign that you should take a lengthy vacation. Deactivating your social media accounts is just a short-term solution for keeping oneself away from these internet sites.
However, deleting your social account would erase all of your data and visibility from such social media sites. Below we will discuss how to delete social media accounts from various platforms.
How to Delete Social Media Account?
Here we discuss the right way step by step how to delete Facebook, Twitter, Instagram, Snapchat, Youtube, Tiktok, and Pinterest accounts.
Delete Facebook Account:
· Navigate to your account settings menu and choose Settings and Privacy.
· Then, on the next screen, select Your Facebook account Info.
· Then, under Deactivation and Deletion, choose Delete Account.
· Finally, click Continue to Profile Deletion and follow the onscreen instructions.
· Choose Deactivate Account from the same Deactivation and Delete option as seen above, and then click Continue to Account Deactivation. Next, enter your secret key, and then click Continue and then Deactivate your Facebook Account.
It is important to note that the complete deletion of all your information and data will take a few days.
Facebook's policy is to delay the cancellation action for a few days after you submit your request, so it will remove your request if you check in to your record within that period.
Therefore, you mustn't access Facebook during this waiting time. Also, delete the app from your smartphone.
Delete Instagram Account
Log in to your Instagram profile's history on the Instagram website to permanently delete it. Navigate to the Delete Your Account tab on Instagram. Choose your explanation or cause for leaving from the drop-down menu.

Type your password and then choose permanently delete your account.
Your Instagram account has been deleted.
Delete Pinterest Account:
To take a break from Pinterest, delete your account. When you permanently deleted or deactivate your Pinterest account, your profile and sheets will no longer be visible on Pinterest.
· Log in to your Pinterest account.
· To access your menu, click the horizontal
· line down icon in the upper right corner.
· Choose Settings menu.
· From the left-hand menu, choose Account Settings.
· Tap Delete account beneath Account changes.
· Then, tell Pinterest why you're quitting, and then click Continue.
· Select Send email to receive an email with instructions on how to cancel your account permanently.
· Check the email address associated with your Pinterest account to verify or confirm that you'll have to deactivate your account permanently.
Delete Snapchat Account:
Following the method to delete your data, this will generally be disabled for 30 days. Your Snapchat friends will not contact or communicate with you once your account is disabled. Go to the Snapchat Profiles Portal site from any application edit profile click to delete the profile instantly.
Enter your e-mail address and password.
Choose Log in.
Click Submit after entering the security code provided to the mobile number linked with the account.
Your account will be deleted if you choose to Continue at the bottom.
They will keep all of your data for Thirty days in case you have to return. If this is the case, reactivate your account by logging in again. If you don't activate it within the specified time frame, the data will be deleted.
Delete Twitter Account:
Click on your profile icon in the top right-hand corner, and then choose Settings and Privacy.
Next, go to the bottom of the Account button and select "Go to the bottom of the page and now click "Delete."
"Please delete your account."
To verify your deletion request, input your password and press the "Delete Account" button.
Tap yes; delete to ensure that you want to proceed.
Deleting TikTok Account:
Suppose you installed the TikTok app only to view videos and never followed an account. In that case, you may delete the app from your smartphone. If you have a verified account, then follow the steps below to erase or delete your account
· Open the TikTok app and touch the "Me" profile icon in the bottom right-hand corner.
· In the right-hand corner of the window, click the three horizontal line options.
· Choose "Manage my account" and then "choose permanently delete account delete account" at the bottom of the page.
· Follow the on-screen instructions, then press "Delete account" once again to confirm your selection.
Delete YouTube Account:
Likewise, as with any break, the other person has the authority to inquire as to why you are leaving their site. For example, suppose you're closing your account because you're unhappy with its management or had a bad experience on the website. In that case, it's critical information to the YouTube team for developing and upgrading the site.
· Enter your YouTube username and password.
· At the top of the page, select the Account app icon.
· Select Delete Profile in the Account page at the bottom of the page.
· This will lead you to the Account Delete webpage.
· Give a reason for why you're deleting the account.
· Please enter your current password.
· Select all Delete My Account options.
Your account has been permanently closed.
Now, more than ever, we agree that we as a collective must take responsibility for using social media platforms rather than allowing them to rule us.
Conclusion
Now that you have deleted social media from your life what is next for you? What should you do to keep yourself busy? Well, there are few things to do actually. Outside activity such as sports, hiking or even visiting friends or family is great into keeping you busy but if you are not an outside person and more of an indoor type of person then I recommend online gambling with any of the online casinos in NZ because this keeps you busy but also can improve your financial states as well.