Rolling Stones Exhibit in Australia
Written by

Cathryn Buchanan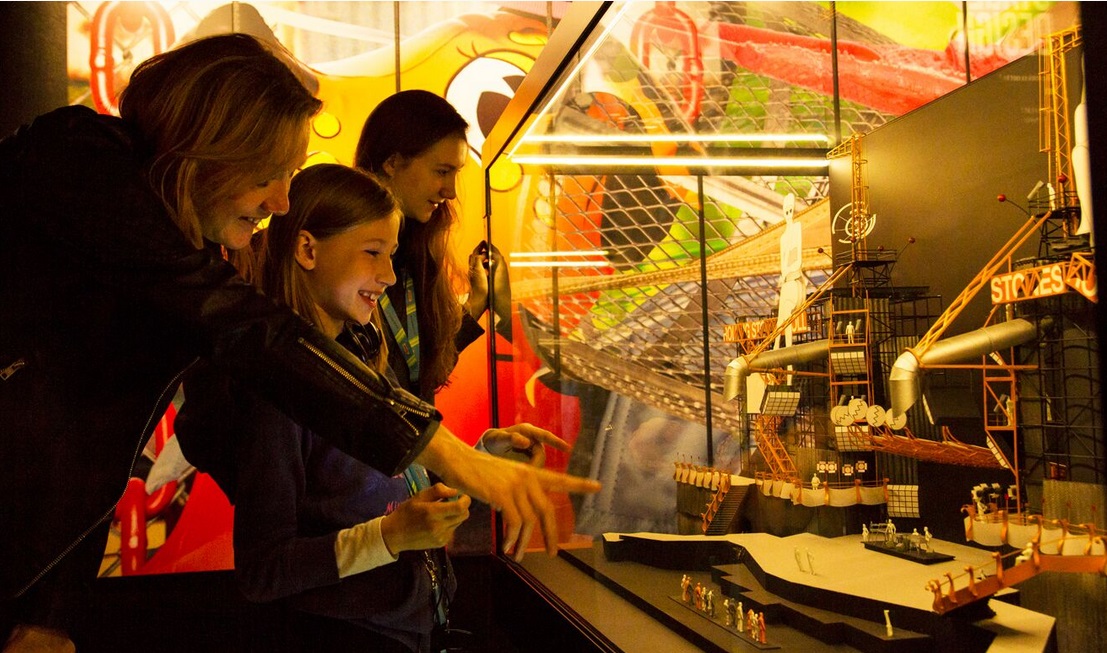 SYDNEY – 10 January 2019 – After delighting music, design, art and fashion fans since its doors opened in mid-November, Exhibitionism: The Rolling Stones Exhibit, delivered by DHL, will leave Australian shores in less than four weeks with its exclusive Sydney run at International Convention Centre Darling Harbour to conclude on 3 February 2019.


Start Me Up! Final chance to attend highly acclaimed Rolling Stones Exhibit in Australia


#ExhibitionismAU #STONESEXHIBIT #STARTMEUP #ILoveSydney



Exhibitionism is the Rolling Stones first ever major exhibition and the largest touring experience of its kind to be staged. It's the first time the Rolling Stones have unlocked their vast private archive, with more than 500 rare and unique items of the greatest rock 'n' roll band on display.
Exhibitionism: The Rolling Stones exhibit features over 500 Stones' items:
*  Vintage guitar gallery, rare instruments and lyric books, backstage and touring paraphernalia, album art, photography, stage design and personal diaries and letters
*  50 years of Stones fashion spanning from the 1960's to the present, with articles from designers including Alexander McQueen, Prada, Dior, Gucci, Hedi Slimane, Ossie Clark, L'Wren Scott, Mr Fish and many more with contributions from Anna Sui, John Varvatos and Tommy Hilfiger
*  190 original artworks including Andy Warhol, David Bailey, John Pasche, Walton Ford, Shepard Fairey, Michael Cooper, Christian Piper, Robert Frank and many more
*  Interactive sound mixing decks and recording studio, a screening cinema narrated by Martin Scorsese and video experiences throughout, all culminating in an immersive backstage recreation leading to a 3D concert finale.
"Exhibitionism is a celebration and thematic exploration of the creative life of a band that has managed both to stay current and stay true to its artistic vision for more than half a century," said curator Ileen Gallagher.
"This was such a unique opportunity to collaborate with the band and get their insights into the project," continues Gallagher. "The quotes on the wall and all of the text in the exhibition is in the voice of the band or people who work very closely with them. You're actually having the band tell you what happened at the time."
Exhibitionism was secured exclusively for Sydney by the NSW Government via its tourism and major events agency, Destination NSW, in conjunction with global promoter TEG Live and Australian-based producer iEC Exhibitions!.
Exhibitionism: The Rolling Stones Exhibit
When:
Sunday – Wednesday, 10.00am – 5.00pm
Thursday – Saturday, 10.00am – 8.00pm
Where:
Hall 7, Level 4 Exhibition Centre, International Convention Centre, Darling Harbour
Tickets start from:
Adult $19.90
Concession $19.90
Children $9.90 (Children 12 and under are free)

Book online at Ticketek or purchase on the door.


Visit www.stonesexhibitionism.com for more information on Exhibitionism in Sydney.
Suggested Tweet: Final weeks @RollingStones #STONESEXHIBIT Sydney @ICCSyd #ILoveSydney must close 3 February >> tickets http://stonesexhibitionism.com
ABOUT EXHIBITIONISM
Over the past 50 years, The Rolling Stones became, and have remained, one of the most culturally important acts in history. From the daring white dress worn by Mick Jagger in 1969, to the seminal Sticky Fingers (1971) album cover to their iconic tongue and lips logo, up to their chart-topping latest album Blue and Lonesomereleased in December 2016, The Rolling Stones have continued to break the boundaries of cultural norms throughout their incredible career.
Exhibitionism tells the story of The Rolling Stones history, allowing visitors to experience first- hand their incredible journey from early days living together in a tiny flat to headlining the biggest stages in the world. Exhibitionism continues the Stones' proud tradition of groundbreaking innovation combined with the highest production values.
Originated and produced by Australian-based iEC Exhibitions! with the full participation of Mick, Keith, Charlie and Ronnie, and curated by New York native Ileen Gallagher, this highly immersive and interactive exhibition explores the Stones' extraordinary career featuring over 500 rare and original items from their archive.
From their most cherished instruments, onstage and offstage clothes, valuable works of art and handwritten lyric books to personal diaries, recordings, unseen film and photos, a screening cinema and interactive recording studio that all culminate in an exciting and powerful backstage-to-onstage 3D concert experience.
The original works of key collaborators who helped to make the band not just musical but cultural icons are also on display, including Andy Warhol, John Pasche, who designed the band's iconic tongue logo, fashion designers Ossie Clark and Alexander McQueen, artist Shepard Fairey, producer Don Was, and film director Martin Scorsese.
Exhibitionism gives visitors a look back at the high points of the band's career through a new film, with a high-octane soundtrack. It then steps back into the early days, to an amazing recreation of the Edith Grove flat that Mick, Keith and Brian shared in 1962. The flat was located just off the King's Road in London's Chelsea neighborhood.
There is a recreation of a Stones' recording studio complete with their original instruments, plus a "backstage" area to give fans a sense of what it truly feels like just before the band heads out on stage. A guitar gallery brings together examples of some of Keith, Ronnie and Mick's prized instruments, including a rosewood Fender Telecaster and a Maton that Keith played on Let It Bleed, which famously disintegrated as he reached the final notes of 'Gimme Shelter.'
Other unique items include the cassette player on which Keith famously sketched out the idea for '(I Can't Get No) Satisfaction,' just before falling asleep in a Florida motel room, Mick's lyric book which features the hand written words for 'Miss You,' 'Hey Negrita' and 'Worried About You,' Keith's 1963 diary, and the toy drum kit that Charlie used in the recording of 'Street Fighting Man.'
About iEC Exhibitions
iEC is an international entertainment, exhibitions and special events company that specializes in the concept creation, design, production and touring of unique international travelling exhibitions. iEC Directors have produced and promoted well in excess of 500 sporting and entertainment events worldwide. To date, selling in excess of 25 million tickets.
For more information:
iEC Website: http://iecons.com.au
iEC Facebook: https://www.facebook.com/iECons
iEC Twitter: https://twitter.com/iECons
About TEG Live
TEG Live is wholly owned by TEG, Asia Pacific's leading ticketing, live entertainment and data analytics company.  TEG Live is a dynamic and diverse promoter of live content in music, sport, family entertainment, eSports and exhibitions.  TEG Live connects millions of fans every year with unique live experiences and adds value to events with hospitality and sponsorship services. For more information: http://www.teglive.com.au
About DHL
DHL – The logistics company for the world.
DHL is the leading global brand in the logistics industry. Our DHL family of divisions offer an unrivalled portfolio of logistics services ranging from national and international parcel delivery, e-commerce shipping and fulfillment solutions, international express, road, air and ocean transport to industrial supply chain management. With about 360,000 employees in more than 220 countries and territories worldwide, DHL connects people and businesses securely and reliably, enabling global trade flows. With specialized solutions for growth markets and industries including technology, life sciences and healthcare, energy, automotive and retail, a proven commitment to corporate responsibility and an unrivalled presence in developing markets, DHL is decisively positioned as "The logistics company for the world".
DHL is part of Deutsche Post DHL Group. The Group generated revenues of more than 60 billion euros in 2017.

About Destination NSW
Destination NSW is the lead NSW Government agency for the State's tourism and major events industry and is responsible for devising and implementing strategies to grow the State's visitor economy. Our particular focus is driving tourism and acquiring and developing major sporting and cultural events for Sydney and regional NSW. In addition, Destination NSW is the major investor in Business Events Sydney with the aim of securing more international conventions, incentive travel reward programs, corporate events and exhibitions.