Does hiring a personal trainer at the gym yield better results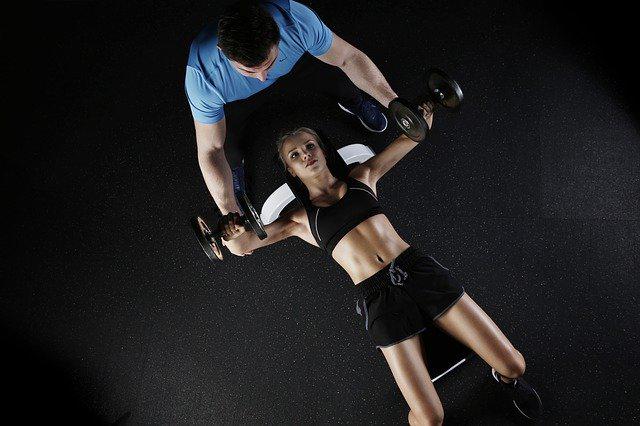 One of the common goals for the new year is to hit the gym. Although many people quit the gym after the first week, you have decided to persist on until you achieve your goals and have the fitness level that you always desired. To do that you can get personal training courses at the gym till you achieve your desired fitness level. However, one of the questions that may have come in your mind would be whether to hire a personal trainer or not. Although many gyms offer the facility of having a personal trainer in the package when you go for membership, the fees are astonishingly high. Another thing that people will tell you that although personal trainers will improve your form but largely depends upon your food intake so that you can improve your body. Some of the reasons how a personal trainer helps you to improve your training are mentioned below.
1. Helps you to set goals and meet them:
If you are starting at the gym, there is a high chance you will either set goals that are too high to achieve or too easy to do for you. A major advantage of hiring a trainer is that he will help you to figure out your current fitness level and help to devise you the goals that you can achieve. It will ensure that you do not overexert yourself and risk injury while also avoiding not doing enough to improve your progress. The trainer will help you to achieve your goals at the required time. Setting unrealistic goals is a negative aspect since it will be both dangerous for your health and can also be disappointing for you as to when you fail to achieve the goals, you may be tempted to quit the gym altogether.
2. Help you to design a workout schedule:
The next thing you should know after hitting the gym is to know the workout techniques. Although you can find out the different exercises online, a trainer will help to differentiate which exercise would be suitable for you according to your fitness standards so that you can get the best results. Although many people regularly do the workout, they do not improve as quickly as they would like since they do not have the required knowledge to do so. Training is more than just lifting weights at the gym and consuming proteins while at home, you need to be educated too about the different techniques and completing the proper exercises. A personal trainer who is a professional in the field will be able to help you increase your progress far better than what you could have achieved while training alone.
3. Help you with the techniques:
When you are doing your exercise, you would probably be thinking about increasing the weight to increase your muscle mass. However, it is important to know that you are doing the exercise properly before you go and increase weight since it can cause you a serious injury. This is a common problem which people face when they train alone. Although you may know the exercise, you could be doing it wrong, and there would be no one to guide you. Such injuries can be easily avoided if you have a personal trainer who would be a professional and help you to correct your technique immediately when you start to do the exercise wrong. Another benefit is that when you start to do the exercise with the correct technique, you will see better results even if you are doing with lesser weights.
4. Motivation:
Although you may have been excited to begin working out when you joined the gym, that excitement may have evaporated quickly, and you start feeling bored in the gym. It sometimes happens that you get tired of doing the same exercise again and again while spending an hour in the gym can also be a hassle for you during your busy schedule. No wonder many people either quit the gym or are not in the mood to go to the gym after a while and take the day off. Having a personal trainer will stop you from feeling bored since he will always keep you motivated by designing challenging exercises to you while also encouraging you to achieve your goals. Things like these make a difference, particularly when you are feeling bored on some days and want to go home early. The trainer will help you to change your exercises so that you do not have to repeat the same exercises and take an interest in your progress which would help you to avoid slacking off.
5. Flexibility:
While working out with a trainer, there is a far greater room for being flexible with your schedule as compared to when you are working alone. If you prefer to workout early in the morning or late at night, your trainer will be able to accommodate you while also offering you a greater variety in the exercises that you will be doing. You can also develop a schedule that caters to your needs after consulting with your trainer so that you can avoid the risk of burn out and getting injured. Many times while training alone, your schedule can cause you to burn out, which may result in you not be able to exercise for a few weeks. This can keep you off track, which would ultimately lead you to fall short of achieving your goals.
6. Improves your efficiency:
Perhaps the best part of hiring a trainer is that the results will be visible after a month. Since the trainer will be helping you to improve your techniques and exercising better, all of this will ultimately show on your body. You will be taking in the required ingredients which are necessary for muscle growth which will ultimately help you to progress far quicker compared to when you are training alone. While you are training at the gym, you may spend a lot of time cooling off before you proceed on to the next exercise, which may release the tempo. The trainer will prevent it so that you go through the exercises smoothly.
Conclusion:
To summarize, although you can work out in the gym and get your desired results. This probably works for those people who have been working out for many years. However, if you are going to the gym for the first time, it is better to hire a trainer first just so that you can get familiar with the right technique and exercises which will help you to improve your fitness levels while also keeping you safe from injuries which you could have sustained otherwise.