Ten Health Benefits of Honey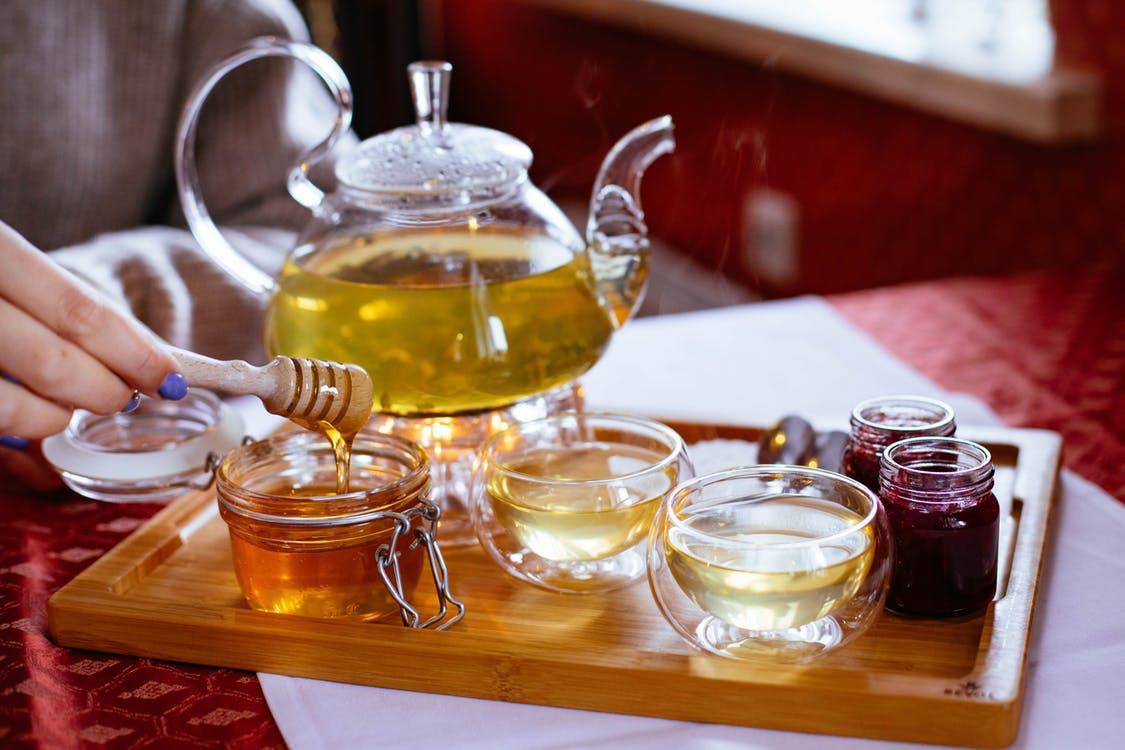 Honey, the golden thick sweetener used in cooking, baking, and medication, etc are obtained from honeycombs. This nectar is sucked by honeybee from a flowering plant and stored in the "crop". This keeps on transferring to another bee through regurgitation until it is stored in honeycombs. It is thick because extra water is evaporated out of it. There are over 300 types of honey. Manuka honey from Newzealand in this regard has been proven best for antioxidants, wound healing, dental diseases, sore throat, stomach issues, lungs problem. To buy Manuka honey, one has to wait for two to six weeks per season. The production of Manuka honey takes longer because it has the shortest flowering season. Honey gained from tiny white bushes of Leptospermum scoparium is an exception because of the higher methylglyoxal (MG).
Researchers have proved that the higher the MG level in the honey the higher the chances of bacteria-killing properties it will have. UMF (unique Manuka factor) provides quality assurance and certifies the presence of key factors such as leptoserin, dihydroxyacetone, and methylglyoxal.
Health Benefits Associated with Honey:
Longevity
Starting from the fact that if kept on a dry place it never gets spoilt. It can be kept stored for a long time. Even after opening a jar of honey if it is crystallized, it is not harmful to use.
Weight Control
It is medically proven that honey helps in improving and accelerating metabolism by reducing body fat. In the morning routine, mixing 1 tablespoon of honey in one cup of warm water burns all the body fat. Due to the presence of carbohydrates, glucose, and fructose, it keeps a person active and energetic to perform daily tasks. Mixing it with one tablespoon of the lemon syrup also works wonders.
Skin Issues
In extremely hot weather conditions, honey can be used as a face mask. It prevents the skin from getting damaged from the ultraviolet rays of the sun. Many beauty experts recommend applying honey on the face to get the skin to tighten and avoid wrinkles. Also, it can be mixed with various other kitchen products to get glowing skin for the beauty conscious people. It purifies skin with dirt, acne problems, pimples, and scars.
It also helps in the regeneration of the damaged tissues and tightens the skin so that the scar after the burn reduces quickly. It nourishes the surrounding tissues of the damaged part as well. It is a healing product because of its antibacterial and anti-inflammatory properties.
Moreover, Manuka honey is a special type of honey that helps the worst of skin problems like eczema. Because of the presence of low water and high sweetening effect in honey, it prevents the growth of bacteria.
Allergies
Honey is the natural remedy to deal with pollen allergies as well. Pollen can be inhaled by the human body and thus causing allergies that can be in the form of coughing, throat infection and respiratory problems too. Because bee pollen is contained in raw honey, it can relieve allergies too. For that purpose, honey needs to be in the raw form that is full of vitamins and nutrition and not pasteurized.
Sore Throat Problems
It helps in improving sore throat problems as well. Taking one tablespoon of honey twice a day or sprinkling black pepper on it works. It helps in healing internal throat itching too. It ultimately helps in overcoming coughing problems and other respiratory issues due to the sore throat. Other medicated syrups/tablets do have side effects too. Sometimes due to extreme coughing, the sleeping routine gets affected and blood comes out of the throat too. This makes difficult for a person to breathe easily.
Hair Benefits
Hairs are an important part of a human personality. Neat, shiny and non-frizzy hair is the dream of every man and women. Now you can achieve healthy and shiny hair by just using honey. This can be applied directly to the scalp. As it has the relaxing nutrients in it too, mixing it with some yogurt will create a moisturizing hair mask for your hair.
Reduces Stress
Honey helps in dealing with neurological issues as well. Its regular use can help improve memory gaps/disorders. Honey, therefore deals with the brain structure involved in memory processing called Hippocampus. The basic reason for memory loss or absent mildness is the stress of which each person deals with. Sometimes the stress is too high, hence leading a professional man to do unlikely mistakes. Stress is the reason why a man feels sick even without being sick. Honey as a remedy can restore cellular anti-oxidant defense systems that can lead to improving memory problems.
Reduces Cholesterol Levels
LDL cholesterol (low-density lipoproteins) and HDL (High-density lipoproteins) are types of cholesterol. While LDL is taken as negative cholesterol leading towards heart diseases while balanced HDL level helps in reducing this risk. Honey itself has no cholesterol at all but its daily use can help in maintaining a balanced level. It can significantly reduce the excess level of it. This is a natural ingredient used to reduce high levels of cholesterol in the body which if not controlled will lead to weight gain.
Improves Sleep
Healthy sleep and considerable rest for the body are necessary to get a fresh start the following day. Sometimes people cannot sleep because of the stress and tensions they get from their daily routine. To overcome this, honey is a natural ingredient with no side effects. Consuming a tablespoon of honey works like magic, thus helping to have a better night's sleep. Honey is the natural sweetener containing relaxing nutrients that will refill the liver's glycogen followed by rising in insulin levels. As a result, Tryptophan turned into Niacin creates serotonin that is a neurotransmitter. This transmitter then produces melatonin that is an essential part to let body sleep.
Energy Source
Honey containing 80% of carbohydrates, works as an energy resource for the human body. Dieticians suggest consuming it with other foods before working out or use it as a post work out snack. No matter how lethargic and tired you feel. Take a tablespoon of honey mixed in warm water and it will give you instant energy.
Conclusion
Honey is the best form of natural remedy for most of the health problems. It can heal wounds, infections, allergies, pain, stress, skin problems and helps in weight loss. There are several types of honey but by far the best one is only Manuka honey. All in all, honey has numerous benefits for people looking to find natural remedies instead of taking medicines which contain many side effects.