Top 10 Trending Bakery Shops in Australia in 2023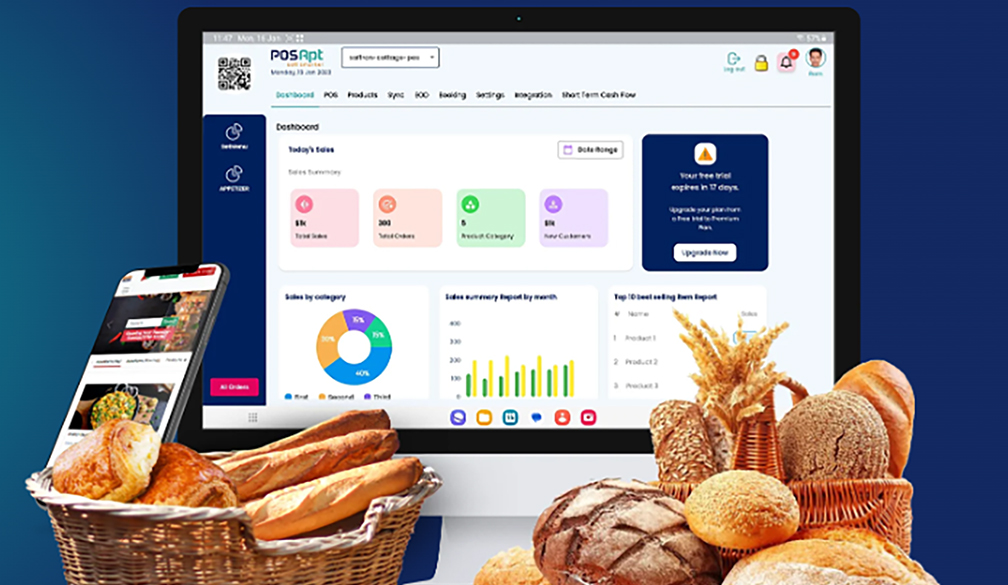 Just imagining the aroma of freshly baked cakes wafting through the air sparks a little taste on my tongue. With so many tasty options to choose from, it's no wonder that the bakery business in Australia is booming. And, with the rise of cloud-based Point of Sale software with integrated online ordering systems like POSApt and Delivery partners like DoorDash, Australians not only get to satisfy their sweet tooth with treats around the corner but across the country.  
From traditional favourites to new openings, here are the top 10 trending bakery shops in Australia in 2023.
1.  Oven Bakery By Fufu
Oven Bakery By Fufu is a dreamy haven for lovers of all things sweet. Nestled in the heart of Sydney, Oven Bakery offers sweet delights from Buttery Biscoff Cupcakes to 6" Chocolate Lamington Cakes. It is a must-visit for those who appreciate the artistry of baking. They have a very easy-to-navigate website where you can conveniently view the menu and order what you like. 
2.            The Family Crust Bakery
Situated in Gladstone, QLD, the Family Crust Bakery offers a diverse range of treats, including pies, cakes, fresh salad rolls, slices, and more. This bakery is not just about satisfying your cravings but also about creating a sense of community with newspapers, drinks, and sandwich platters available. They don't yet have an online ordering website or delivery options but you can order via phone and pick it up when ready.
3.            Tico Bakery
Have you ever had a dolphin-shaped macaron? That's my favourite treat from Tico Bakery. Nestled in Rochedale South, this cute bakery specialises in mouthwatering macaroons, crepe cakes, mousses, and tarts. They are a patisserie takeaway shop so you can either call them to place your order or visit them directly at their physical store and order your dolphin macarons. 
4.            Oregano Bakery
For an authentic taste of traditional Lebanese baked goods, Oregano Bakery is the place to be. It is a family bakery with two store locations, one in South Hurstville and another in Peakhurst. The place is mostly known for its sweet scrolls and Lebanese delights. They offer multiple options when it comes to getting your sweet tooth satisfied; whether you want to dine in, takeaway or get sweets delivered directly to your doorstep. 
5.            The Cheesecake Shop
A household name, The Cheesecake Shop has grown from a single store in Sydney to an international success with over 225 cake bakeries. Known for their consistent quality and variety, they've garnered multiple awards and recognition for their excellence. A cheesecake from them is irresistible. You can order your favourite cake directly from their website or visit a physical outlet near you to savour their cakes.
6.            Hudson's Bakery
If you thought gluten-free meant sacrificing flavour, think again – because Hudson's Bakery is here to prove you deliciously wrong. From fluffy white bread that's as light as a cloud to melt-in-your-mouth lamingtons, they have completely mastered the art of gluten-free baking. Make sure you stop by for a takeaway treat or order through their website by setting a pickup location.
7.            Tatin Bakery
Tatin Bakery isn't just a bakery; it's a promise of freshly baked delights every single day. Nestled in North Balwyn, their passion for perfection is as evident as the layers in their pastries. With their doors open seven days a week until 3 PM, they're your go-to destination for daily sweetness.
8.            Birdsville Bakery
Birdsville, a remote gem in Queensland, welcomes you with the inviting aromas of Birdsville Bakery. Located on Billabong Boulevard, this shop is the heart and soul of the community. They serve up not just fresh food and great coffee, but a taste of tradition and a slice of local culture. From morning tea to a quick lunch or a snack for the road, they've got all of your cravings covered. 
9.            Tooradin Bakery
The Tooradin Bakery in Victoria is all about delivering joy in every bite. Whether you want to dine in or takeaway to your favourite location to enjoy, this bakery doesn't disappoint. Their commitment to quality shines through in every pastry, every slice, and every creation. 
10.      Grandma Moses Bakery
For kosher delights, Grandma Moses Bakery in Kensington, NSW, is a standout. With the best bagels in town and an array of delicious treats, it's a place to relish the flavours of good baking.
Takeaway
These top 10 trending bakery shops in Australia offer a delightful journey through flavours and creativity. Whether you're a fan of sweet treats or savoury delights, these bakeries have something for everyone. However, you may have noticed that while some of them have multiple ways you could order, others only had the traditional way of visiting their physical store. 
So, if you're a bakery owner yourself, the takeaway for you is that what you need is a bakery POS that seamlessly integrates with an online ordering platform allowing you to sell both, online and offline.  
Explore their unique offerings, support local businesses, and treat yourself to an unforgettable culinary experience.