how Blanche d'Alpuget's 'warts and all' biography of her lover Bob Hawke helped make him prime minister
Written by

Chris Wallace, Professor, School of Politics Economics & Society, Faculty of Business Government & Law, University of Canberra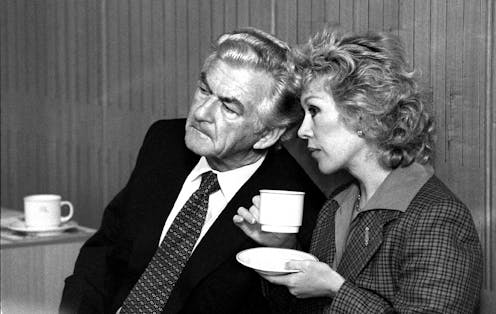 Blanche D'Alpuget was born in 1944, the daughter of Lou d'Alpuget and Josie Stephenson, and grew up in Sydney's eastern suburbs. She attended Sydney Church of England Girls' Grammar School and, briefly, the University of Sydney before becoming a journalist with the Daily Mirror, rival newspaper of the Sun where her father worked.
A hyper-masculine yachtsman, champion boxer, wrestler, water polo player and, in youth, Bondi lifesaver, Lou d'Alpuget in the newsroom once shouted at cadet journalist John Pilger so ferociously for getting his facts wrong that Pilger fainted. He taught Blanche to box, surf, sail, fish, fire a rifle and execute basic unarmed combat moves, the last because he thought girls should be able to defend themselves against assault.
The journalistic gene was not fully transmitted though. "I was always aware of the fact that I was not a good journalist," d'Alpuget says. "I had no news sense. It is a sense, and I haven't got it. I still haven't got it."
Unusually, Lou recommended the works of Cambridge English literature don Arthur Quiller-Couch to Sun cadets, not an obvious choice as an influence on Australian journalistic prose. While Lou's news sense was not transmitted to Blanche, the literary bent this suggests in him was.
D'Alpuget was on the Mirror's full-time payroll in Sydney for just three years: life as a novelist lay ahead. First, though, there was a spell in London followed by nine years living in South-East Asia, including two periods living in Indonesia with her husband, journalist turned diplomat Tony Pratt.
'A good guy': meeting Hawke
In 1970, the year d'Alpuget first met Hawke, Pratt was second secretary at the Australian Embassy in Jakarta. "I showed visiting 'firemen' around Jakarta," she recalls. "I was very good at that. It was one of the things expected of the wives."
Hawke, recently anointed ACTU president, remembered seeing "this vision" for the first time, en route to the annual meeting of the International Labour Organisation in Switzerland.
"I met her first in Jakarta on my way through to Geneva when Rawdon Dalrymple was the counsellor in the embassy there," he recalled. "I was sitting on the verandah of his house having a beer and this vision in white appeared from around the corner and I thought, my god!" For her part, d'Alpuget formed an immediately positive impression of Hawke.
I thought he was a good person for a particular reason. It goes back to Jakarta, and to showing around visiting firemen. All of them, without exception, would want to visit the Jakarta slums. And I used to take people there and […] they'd get this warm inner glow of the superiority of our culture while looking at the poor slum dwellers as if they were animals in a zoo, which I really hated.

Bob was the only person, when I asked, "Do you want to see the kampongs?" who said, "No, I don't want to see poverty". And I thought, ah, a good guy. And really my respect for him was based just on that.
She would see Hawke once more in Indonesia – the following year, in 1971, when he was again en route for the International Labour Organisation. As well as squiring visitors around Jakarta, d'Alpuget worked variously at the Australian Embassy, including the press office, during her time in Indonesia.
She wrote human interest pieces "with the blessing of the Australian embassy" and tacit approval of the Indonesian intelligence service, to be placed in the Australian media, smoothing the way for the first visit to Australia by an Indonesian head of state: President Suharto in 1972, in the still sensitive post-Konfrontasi period.
It was a life of "pleasure and ease … friends and parties, horse riding in the early mornings, swimming in the afternoons", married to Tony: "We […] were boon companions."
Good Weekend
A 'vivacious, unconventional' writer
D'Alpuget returned to Australia in 1973 and lived in Canberra where Pratt worked for the Department of Defence "with consequences he had not foreseen, and he was miserable". She felt socially restricted and stood out in a national capital then only 200,000 strong, the vast majority of whom were in the paid workforce as public servants. "I don't much like bureaucrats and they don't much like me," she adds.
Her friend, feminist activist Susan Ryan, who became a Labor senator for the ACT in 1975, recalled d'Alpuget then as a "vivacious, unconventional woman in her thirties".
Dazzlingly pretty and petite, she looked like a Thai beauty with blond curls […] Blanche was full of fun. She liked to make loud, outrageous observations about people, particularly about their sexual demeanour […] In an era of dull and careless feminist dress codes she was a welcome sight at [Women's Electoral Lobby] meetings, a little bird of paradise in gold high-heeled sandals, tight black slacks and a mink jacket to keep out the Canberra cold, topped by perfectly ordered blond curls, her face luminous with detailed make-up.
Pratt, in turn, was an "Adonis" in Ryan's recollection. "I loved my husband, whom I'd met when I was seventeen, and felt fiercely loyal to him," d'Alpuget has written. "In the decade we had journeyed together we had both taken side trips, but we were mindful of each other's feelings, and discreet." They divorced in 1986.
It was during this period that d'Alpuget established herself as a writer.
"I was not keen on taking a job, because of our young son"; instead she wrote a novel set in Jakarta. Twenty rejection slips later, including one from publisher Richard Walsh who described it as "just a straggle of events" – he "was right, but I felt like pulling out his tongue and feeding it to the cat" – she set the novel aside. "But I had discovered the pleasures of writing and wanted to do it again."
Read more: I studied 31 Australian political biographies published in the past decade — only 4 were about women
d'Alpuget's first biography: Sir Richard Kirby
D'Alpuget did, winning Fellowship of Australian Writers' prizes for two short stories in 1975. Then came an unexpected, perhaps fated, opportunity to write a biography of Sir Richard Kirby, a long-serving judge and former Conciliation and Arbitration Commission president.
D'Alpuget knew Kirby's daughter Sue from school. At the time Sue lived in Canberra and her parents occasionally visited. When Kirby and d'Alpuget met in Canberra through Sue, they found a common interest in Indonesia, especially the late Indonesian president Sukarno. "Kirby had known him personally when he was at the height of his power," d'Alpuget later wrote, "I as an observer in the last days of his shattered dream."
During a conversation about Sukarno's Indonesia of the 1940s, d'Alpuget asked to see Kirby's photographs of the period; Kirby instead sent the transcript of his National Library of Australia oral history interview. Shortly afterwards, at her father's request, Sue sounded out d'Alpuget about whether she would be willing to help him with his memoirs.
Read more https://theconversation.com/friday-essay-how-blanche-dalpugets-warts-and-all-biography-of-her-lover-bob-hawke-helped-make-him-prime-minister-197911