Why coronavirus will deepen the inequality of our suburbs
Written by

Carl Grodach, Professor and Director of Urban Planning & Design, Monash University
COVID-19 and the growing recession concentrated in the services sector will not just increase social inequality, but accelerate the growing spatial divide in our cities. As our new research report shows, the pandemic's impacts reinforce the ongoing trend towards the suburbanisation of inequality.
There are two reasons for this. First, the industries vulnerable to the economic impacts of COVID-19 lockdowns rely heavily on low-wage, part-time employment. Second, the inner suburbs are home to the largest concentration of COVID-vulnerable workers.
Read more: Rapid growth is widening Melbourne's social and economic divide
If we do not act now, more people will get pushed out of inner areas rich in jobs and amenities to lower-cost outer suburbs with poor access to jobs and community services.
Which industries and workers are vulnerable?
Our research analyses where people employed in the industries most vulnerable to COVID-19 lockdowns live and the kind of work they do. We map vulnerable employment areas in all suburbs of Australia's five largest capital cities. We then examine the characteristics of people in vulnerable employment living in all suburbs of Australia's current coronavirus hotspot, metropolitan Melbourne.
We define vulnerable employment based on a detailed review of industries with one-third or more firms reporting reduced worker hours one week after the first COVID-19 lockdown (March 30 2020). These firms are mainly in the consumer, travel and community services sectors. They employ people working in accommodation and food, arts and entertainment, education, "non-essential" health care, retail and transport.
Read more: How the coronavirus recession puts service workers at risk
We profile the characteristics of vulnerable workers in each of these sub-industries and by suburb. We classify suburbs (using SA2 level data from the Australian Bureau of Statistics) by share of vulnerable employment based on the worker's place of usual residence.
Many at-risk workers live in inner suburbs
As the map below shows, the largest shares of vulnerable workers live in Melbourne's inner suburbs.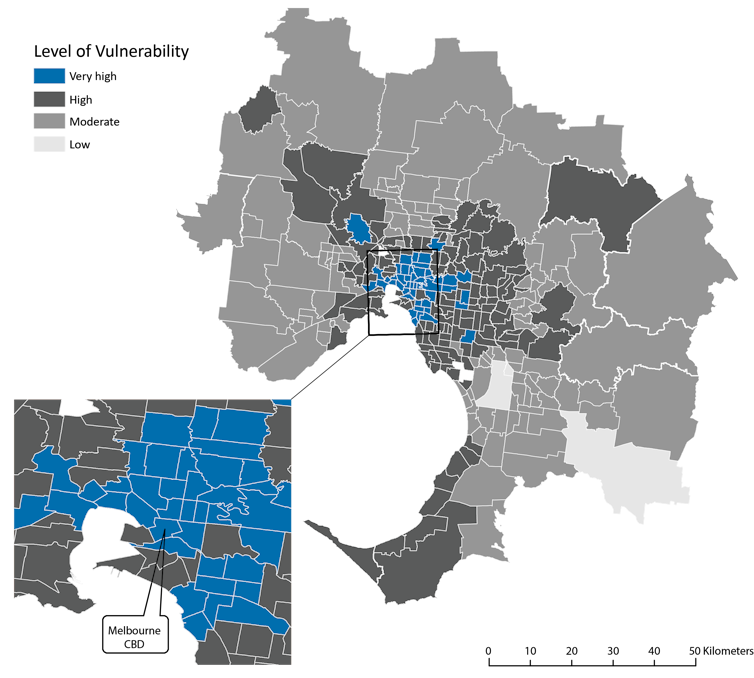 Authors: Carl Grodach, Professor and Director of Urban Planning & Design, Monash University
Read more https://theconversation.com/why-coronavirus-will-deepen-the-inequality-of-our-suburbs-143432