After 8 years of memes, videos and role playing, what now for Game of Thrones' multimedia fans?
Warning: spoilers are coming!
As the ash settles upon the smouldering crenels of King's Landing and a new ruler ascends to the throne, Game of Thrones fans around the world ask … what now?
For eight years, the sprawling epic of this HBO series has unfurled before our eyes. The show's cultural relevance, its record-breaking global viewership, and the ways it captures the collective imagination are clear. Events in Australian federal politics have been compared to a Game of Thrones script. Even the sitting US President, for good or ill, communicates via GoT memes.
But beyond the final episode, which aired Monday, there is another world to explore. Thousands of fans have transformed the series into something else, creating a multimedia, participatory phenomenon that will endure.
Through memes, tweets, GIFs, videos, blogs, fan-fiction and commentary, shared via social media, these "transmedia" fans have formed communities that analyse and extend the show's narrative. Pastiches that mash-up GoT with other popular culture references, such as Game of Thrones - 1995 Style, are just one example of the creative material fans produce.
Our research initially looked at online fan reactions to the episode adapting the "Red Wedding", a bloody plot point from George RR Martin's A Song of Ice and Fire novels. We are now exploring the community #FakeWesteros, which has existed on Twitter since the show's inception.
In this community, fans live-tweet/role-play GoT episodes in character. Tweets (usually tongue-in-cheek), are spoken from the perspective of the character, and often include animated GIFs or memes sharing reactions to events. #FakeWesteros has a large following – the account @NiceQueenCersei alone currently has 58,000 followers.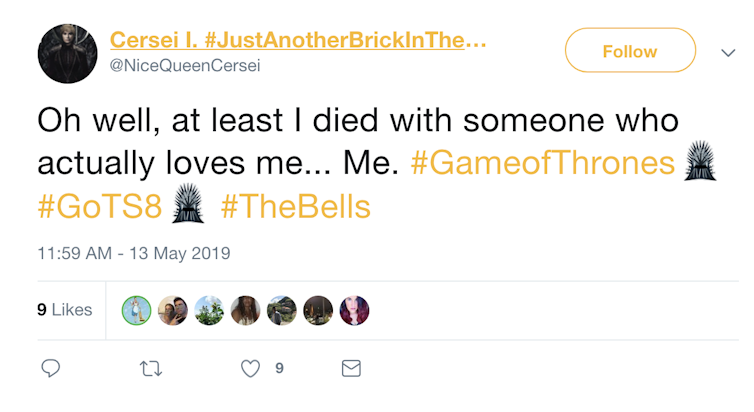 Authors: Eric Forcier, PhD Candidate, Swinburne University of Technology
Read more http://theconversation.com/after-8-years-of-memes-videos-and-role-playing-what-now-for-game-of-thrones-multimedia-fans-117254