How Long Does It Take to Cut Down a Large Tree?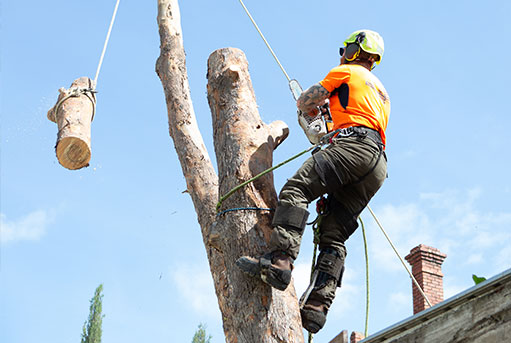 Big trees can add beauty to your garden or landscape. They may also keep your home cool in warm temperatures and serve as a windbreak to slow down heat loss during winter.
However, there could be a time when you must bring your tree down, either because of weakening from pests/diseases, old age, or extensive storm damage. While some people take a day to have a tree removed, others only take just one hour to have the job done. This depends on various factors, including the following:
Tree Condition
Trees may hold grounds for three decades or even centuries. Though factors, like lightning, drought, diseases, and insect infestation may damage these trees.
Holes and cracks may as well occur in trees due to some insects like termites. It is important to use preventive measures like pesticides to prevent this. Unfavorable weather conditions can also affect the structure of your tree and weaken it. Such conditions are very harmful to the health of many trees.
Access to the Tree
Basically, tree removers will first visit the site to evaluate your tree. They may also need to ensure easy access to your tree and a proper removal process with utmost consideration to safety.
A tree near utility lines, buildings, roads, and other structures, is difficult to access. If there are obstacles along the way, it may take more time to remove your tree.
Electrical Risks
Among the hazards related to tree removal and pruning is electrocution. Branches might come into contact with electrical wires as the removal service firm tries to cut down your tree.
You must consider electrical risks to avoid fires and other dangerous incidents. You may reach out to a power company two or three days before the removal day so as to disconnect the electrical wires.
Council Regulations
Most of the time, you will need to seek permission from the local government to receive guidance on tree removal. While it is important to have a tree in your garden, tree removal is not something you should rush into.
To prevent issues ranging from environmental destruction to potential injuries, be sure to look into your local council regulations revolving around trees on private properties. 
Cutting Technique
Immediately the trunk becomes twig-free, up to shoulder height, it would be time to make the felling cut. While doing this, it is vital to keep a few things in mind.
This may include inserting a breaking bar before the tree pinches the guide or making a hinge to have the same thickness with the correct dimensions.
Removal Service
Tree removal is an important process, which needs the services of a professional and certified arborist. Because trees might be dangerous when they are removed or cut down, you must entrust the project to a team of trained professionals.
A reliable removal company will be there to help you remove your tree in just one hour and eliminate all the risks associated with the process.
In a Nutshell!
Cutting down trees is a challenging project. This explains why most property owners hire removal companies to cut down their trees. Even with a removal company's expertise and knowledge, cutting down trees will not be a walk in the park and may take hours or days to finish.
Mostly, the time needed to carry out removal tasks usually depends on how difficult the project is and the tree's location. By hiring a professional removal company, using the right tools, and applying the right technique, you can successfully cut a tree in less than an hour.