Best Group Gift Ideas from the Office
Written by

Candice Meisels
Ali Linz and Julie Tylman, Co-Founders of GroupTogether, share the best group gift ideas from the office.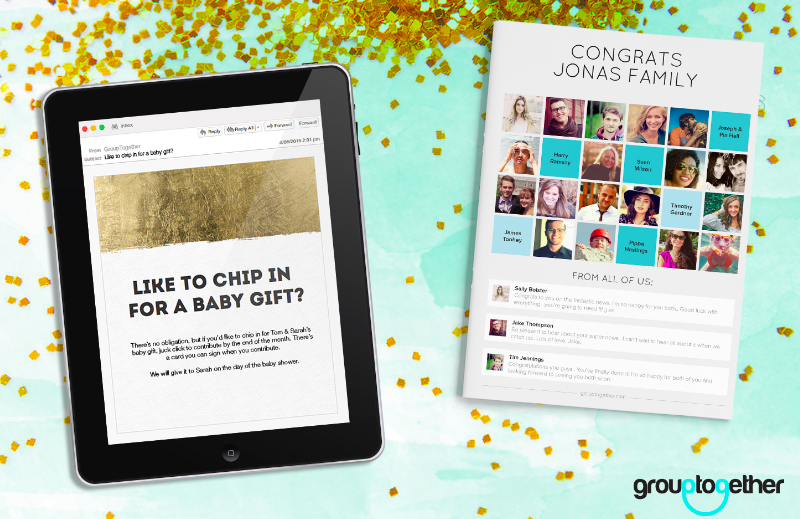 A colleague who is having a baby...

We surveyed over a hundred mums and dads to find out what baby gift was the most loved, most useful or had the most impact, and here is the short list:
Nappy Bag (works equally well for both mum and dad)
Baby Carrier (both mums and dads preferred the front carrier)
Baby Monitor with video.
Meals Delivered
Family Photo Shoot
Baby Sitter/Night Nurse
Whether you arrange for the gift yourself, give a gift-voucher or give gift funds so the new parents can decide, these are all fabulous gifts, that will be treasured by your colleague.


Wedding Gift
Aside from the obvious gift registry option, we think a luxe twist on the more traditional wedding gifts will make your colleague & partner feel spoiled like they are staying at a luxury spa or hotel.
(Bath) Egyptian Cotton sheets and Cashmere blanket
(Kitchen) Espresso Machine
(Entertaining) Coordinated serving platters & serving spoons & forks
(Home) Artwork or sculpture
(Honeymoon) "Experiential gifts" like hot air ballooning or day at the spa.
As wedding gifts tend to be more of a big ticket item, it is worth doing a bit of homework to find out your co-worker's favourite shops and interests before buying the gift. Giving the newlyweds corporate prepaid gift cards would be an easier option.


Farewell or Leaving Gift

As there is a lot of variability in who is leaving and why, these gift ideas can be bought at price points from practical to luxury.
(Old Stand By) Flowers, wine, chocolates
(Hipster Twist) Guidebooks, restaurant vouchers, museum membership.
(Classic Corporate) Monogrammed pen, satchel, briefcase
(Timeless) Silver photo frame with pic of the office gang.
(Aspirational) Carry-on luggage, overnight bag.
This group gift is a bit trickier as you need to take into consideration not only your colleague's position in the company (your boss?) but also time spent at the company (20 years or 2 years) and within the department.

Get Well Gift

A get well message from everyone is a standout gesture that will always be remembered by your co-worker. If you'd also like to include a gift, here are some lovely options.
Give a beautiful flowering plant instead of flowers
Have hot meals delivered over a couple of days or weeks.
Give cozy pajamas, slippers &/or a robe.
Music e-voucher that can be redeemed online.
A charitable donation
It's always the thought that counts but sometimes a little gift will help lift the spirits 


Bereavement
It's one of the most emotional times that your colleague will ever go through. It's also fraught with anxiety and awkwardness for co-workers who want to say the right thing but clam up because they don't want to make a mistake. Just a simple "how are you, I'm thinking of you, just wanted let you know I heard what happened", can be enough. Sometimes a small act of kindness can bridge the gap.
Have meals delivered, especially after the first few weeks have passed.
Make a charitable donation from your team on behalf of your colleague.
Plant a tree to memorialise their loved one.
GroupTogether  make it easy to collect for group gifts or collections of any kind. GroupTogether also helps arrange collections to donate to charitable causes and can even save you that trip to the shops by providing e-gift vouchers. To learn more, visit 
https://www.grouptogether.com/