WHAT ARE THE 5 BASIC DOG COMMANDS? WHEN SHOULD YOU START TRAINING THEM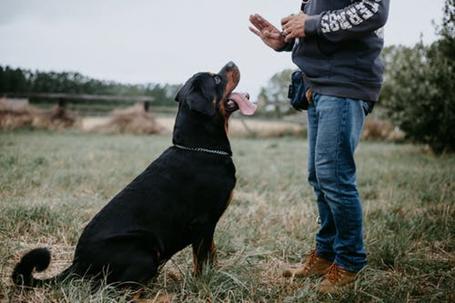 Raising a dog is more like raising a child and as a dog parent, you have to teach, train and love your dog unconditionally. Not only the pet owners but their canine companions enjoy pure attention. In this way, you can make them learn how to sit, fetch, eat and knowing when to bark. This obedience training will not only improve your dog's behavior but help them understand domestic commands to get along with other people.

HOW TO START TRAINING YOUR DOG?
To start with your dog's training session you need to make sure that your pup knows what to expect. If you want him to learn and understand your commands, you need to give rewards like your pup's favorite treat or toy.
In case you wonder how bribing can help you train better then here is a thing you should know. When you start training your dog you need to make him understand that if he successfully meets the goals, he'll be rewarded. And this will also boost his ability to achieving goals. Apart from that, avoid harsh practice or training methods as it can impact your dog's behavior.
For a more clear idea, here are some basic dog commands that you should train:

START OFF BY TRAINING A RECALL:
Teach your dog to come when you call is the most common practice that comes handy in silent areas or inside your house. For this training, you need to sit down with your dog and recall his name and ask him to come. In this way, he can understand what you are asking for. Once done with calling his name and come practice, reward your dog with his favorite treat so he knows what to do and what's the reward in exchange. Repeat this practice every day for a few weeks and your dog will definitely learn to come when you call his name. There are many centers for dog training in Brisbane, but it's better to train your dog on your own so he can get used to your place and commands.

TEACH YOUR DOG NOT TO PULL:
The most important thing to consider while pursuing your dog's training is by teaching him not to pull while you are walking. And for that, it's better to train him for loose leash walking which can help you walk with your dog, without any struggle. Dog training can be fun and more relaxed if your dog walks beside you.
To start off with the loose leash walking you need to make sure that your dog is comfortable and fine with wearing a leash. Then use words like move forward or let's go this way, as these words can help him understand that you want to walk. Also, the ideal tip to make your dog learn about the loose leash walking practice is by using the same word every time.

TEACH YOUR DOG TO SIT WHEN YOU SAY THE WORD "SIT":
To make this process super simple, you can hold our pup's favorite treat in your hand and make him sit by saying the word sit over and over. This practice will eventually take some time but the treats will help you bribe your dog.
For a quick training option, you can lure your dog with his favorite treat and make him sit. Do you wonder how? Well, take the treat close to your pup's nose then swiftly and lift the treat to make him follow it. Put the treat down only when your dog sits. The luring practice with his favorite treat will help you get done with this teaching process.

TRAIN YOUR PUP HOW TO STAY AT A SAME PLACE:
To make your puppy learn the art of staying in one place requires a lot of your patience. First, you should teach your dog how to sit still until you say the release word. Once you say the word release, your pup should leave the place and come to you no matter what.
For such practice, you need to make your dog understand to stay still at a place. This can be done by luring treats or toys. Use a constant word like Ok or Run to release him.

TRAIN YOUR DOG TO LAY DOWN IN EASY STEPS:
Teaching your dog to lay down is pretty much like training him to sit. Simply use the same steps for the laydown practice. The only difference is better to use the word lay down instead of sit. This will help your dog understand when your dog should lay down.

IN CONCLUSION
For optimum training sessions make them short and fun so your dog can learn easily. Along with that evaluate your dog's performance overtime to make the steps simple.