A Guide to Bakery Supplies Every Bakery Needs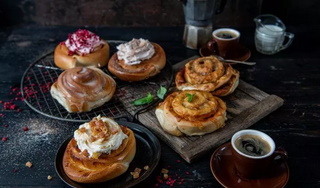 When it comes to starting and running a bakery, your supplies play a key role in the overall functioning of your bakery and whether you are able to operate successfully. In order to produce delicious products and attract patrons to your bakery, you need to make sure that your supply process is smooth and your supplies themselves are of high quality.
If you would like to learn more about what kind of bakery supplies you should invest in, you've come to the right place! Keep reading for a guide on what bakery supplies every bakery - including yours - needs.


Commercial Equipment
Depending on how large your bakery is and whether you want to be directly involved in the dough-making process, you may need a few pieces of commercial equipment for your bakery. Commercial equipment can be quite costly (especially when you need more than a few pieces) and as such, it is important that you calculate the finances of your bakery accurately so that you can determine whether commercial equipment is a worthy investment for your bakery or not. 
Most bakeries will have a few key pieces of commercial equipment. These include:
Mixers. Mixers are used to make dough and fillings and are typically considered necessary for most bakeries for the sake of efficiency.
Ovens. Depending on how many batches of bread you are baking per day, you may need a large commercial oven or one which reaches unusually high temperatures. There are also different types of ovens including convection ovens and stone deck ovens.
Proofer. You may need to proof some of your dough, and a dedicated proofing cabinet can help quicken this process for you.
Bread slicer. Rather self-explanatory, you may need an automatic bread slicer to help you cut your bread or dough to the perfect serving size.
Frozen Dough
If you are looking to focus more on the business-running side of things for your bakery, then you may need to invest in frozen dough. Using frozen dough in your bakery for some or all of your products can save you time and energy, while also ensuring that the quality of your bakery's menu items remain top notch.
There are many different types of frozen dough you can purchase for your bakery including loaves, scrolls, rolls and flatbread. Contact your local
wholesale bakery supplier
for more information regarding purchasing frozen dough for your bakery.


Display Cases
Display cases are essential to every bakery. Not only do they keep your baked goods in the best condition, they can also help add to the aesthetic of your bakery. You can purchase display cases of various different sizes to suit your bakeries needs, and with varying designs as well. Make sure that you spend some time looking at display cases before settling on one that is right for you.
And there you have it, a guide to the bakery supplies every bakery needs! Commercial equipment, frozen dough and display cases are all supplies that play an integral role in the operation and presentation of your bakery. Make sure to research all the supply options available to you so that you can run your bakery as successfully as possible.