15 Clever Solutions for a Tiny Bedroom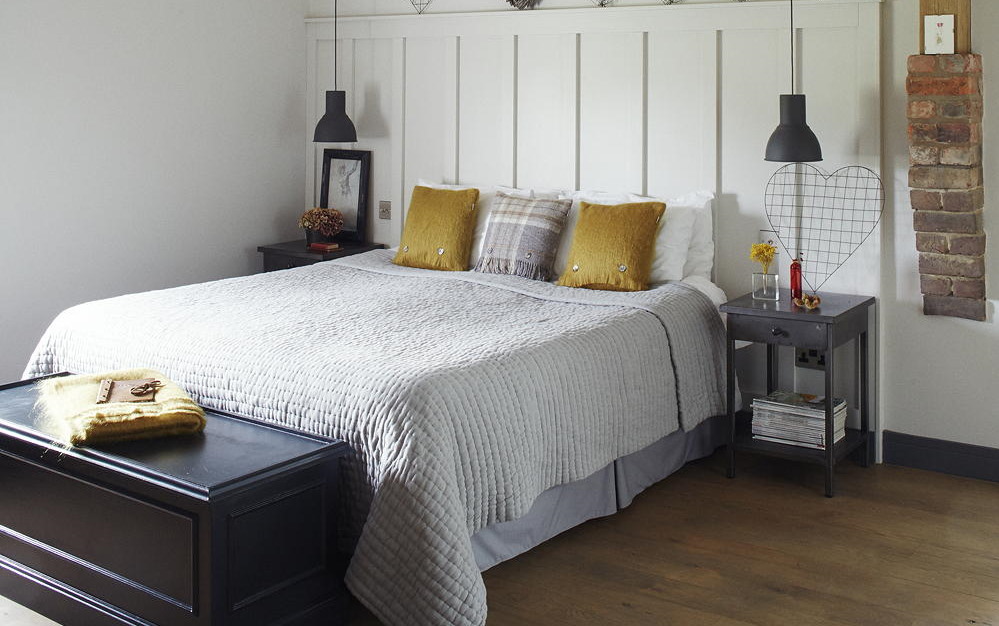 When did your bedroom become so small? Probably sometime between seeing it in the brochure and moving in with a life-time worth of boxes.
Size does matter, when it comes to a newly purchased apartment, but thankfully interior designers have quite a few tricks up their sleeves to transform any cramped quarters into a roomy oasis. Living in a small space requires just a little bit of extra thinking and creativity.
Bellow, here's a few designer's tricks to make your bedroom feel more roomy:



The Bed


1- Organize the room around it. It is, after all, the centerpiece. First thing you need to do is decide between a bed frame or a bed base. They both have their advantages, but in this case you should take into consideration the bed's mobility and potential storage space beneath the platform.
2- Push it! Another neat trick is to place the bed flush against the wall opposite the doorway. According to the principles of Feng-Shui, it's ideal to have the same amount of space on each side, no matter how narrow it is.
3 - Make some cuts. You don't need a giant headboard taking up your entire wall. Instead, choose a skinnier, shorter headboard. That way, you'll save wall space for art or decor.



The Walls


1 - Stick to a limited color palette. Whether you go for paint or wallpaper, keep in mind neutral colours are the most soothing and will ensure a restful sleep. Light lilac, khaki green, blush pink, lemon yellow are just a few recommended options, depending on the style you are going for.
2 - Use mirrors. According to Feng Shui Expert Gayle Smith, placing a mirror can "bring in the outside", which is a good thing. But most importantly, it will also create the illusion of "doubling" the space in your room.
3- Utilize the vertical space. Built-in bookshelves give you extra storage space without having a chunky piece of furniture protruding into the room. If earthquakes are not a problem in your area, you can frame the shelves around the bed.



The Nightstands


1 - Bookshelves. As previously stated, if you don't have enough space for nightstands, simply look further up. Bookshelves above the bed or to the side can take on the role of nightstands. And of course, a headboard light will efficiently replace grandma's reading lamp.
2- Use a console table behind the bed. If your room is rather long than wide, you can maximize that space's potential. And if you really want to step it up a notch, if pliable, the console table can also be used as a breakfast table and laptop desk.
3- Make that corner useful! Corner shelves can serve as a great night stand alternative. There's a plethora of options to inspire from, depending on the material, size and design that suits your needs.



Decorations


1- Buy a house-plant. Plants absorb carbon dioxide from the environment and produce oxygen during the day that can be released at night. It's also been proven that caring for plants as you wind down for the day can reduce feelings of stress anxiety.
2- Use throw pillows sparingly. Decorative pillows can tie in color accents within the room, often drawing on the colors in drapes, walls and rugs. They can also be used to give a more casual feel, by looking as though they were thrown onto a piece of furniture.
3- Use a rug. With all the storage space elevated on the walls, you - ironically - have a pretty awkward patch of floor left. Fill in those missing spots with fun textiles that show off a bit of your style.



Light


1- Change your lighting scheme. Wide fixtures will flood the room with light, while sconces will give a cozier, "powder room" feel. Hanging bulbs are super cool because they are thicker and darker than regular lights. They work great in small rooms.
2- Let the light in. Nothing beats natural light. Make sure you don't have anything obturing the main window. Unless, of course, you have a sill that allows you to have a small napping cot.
3- Play with the light. There are five light schemes: direct, indirect, semi-direct, semi-indirect and diffused. You can play with them to create ambiance, and alternate between lights and shadows to highlight certain areas of the room. A small set of fairy lights will enhance the magical feel.
So, which small bedroom solution did you like the best? We hope we inspired you to brainstorm some ideas of your own. Take it step by step and get the basics done. Measure the size of the space and calculate what type of bed it can properly accommodate. Make sure you have plenty of light. After that, the décor can flow through. Take a moment to enjoy your new slumber nest!