Treatment Options Available for Eye Floaters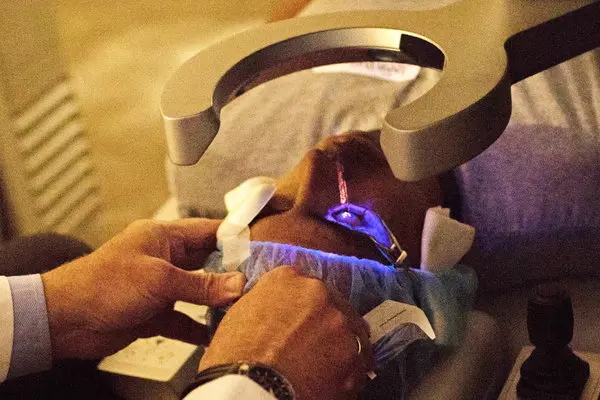 Have you experienced seeing shadows in your field of vision? They may look like tiny dots or string-like cobwebs that tend to disappear once you try to strain your eyesight. These irritating obstructions are called eye floaters. In scientific terms, those spots that you see are gel-like collagen in your vitreous. In most cases, they do not cause a permanent obstruction in vision, especially if they only appear from time to time. However, severe cases can lead to impairment, which will require you to get an eye floaters treatment done.
Cause of eye floaters
Generally, seeing eye floaters is associated with age. The eye produces a gel-like substance called vitreous, which helps in maintaining its shape. As you grow older, these substances dissolve into a water form, which then creates the floaters that you see.
It would be best if you approached your doctor once you start seeing these irritating blobs as they may be a sign of a more serious eye condition like retinal detachment. If needed, your ophthalmologist will prescribe either one of the two treatment options for dealing with eye floaters.
Vitrectomy
For the longest time, vitrectomy has been the only eye floaters treatment option. The purpose of this invasive surgery is to drain your vitreous by making a small incision in your eye. This gel-like substance will then be replaced with a solution that will help your eye retain its shape. The problem in this method is that it may be coupled with trauma and bleeding because it involves cutting through the eye. Since this operation is not risk-free, it is only used for people with very severe eye floater problems.
Laser vitreolysis
As an alternative to vitrectomy, people with eye floater problems can opt for a laser vitreolysis. This treatment is an innovative laser procedure that is still being perfected by top eye surgeons. Nonetheless, it offers lesser risks than a vitrectomy. It is pain-free and can quickly be done in the office of your ophthalmologist. It has been proven very useful for people 45 years old and above since their eye floaters tend to be more pronounced.
In preparation for the treatment, your ophthalmologist will place a contact lens in your eyes along with anesthesia. Once you are ready, he will aim a laser beam at your pupil using a biomicroscope to break large floaters apart. The whole procedure usually lasts for only thirty minutes. After this, your contact lens can already be removed, and your eyes will be washed with a saline solution. He will also apply an anti-inflammatory eye drop to prevent you from contracting any infection.
After the treatment, you might still see some small spots of shadows in your vision. This is normal, and they would often disappear quickly. Part of the packaged procedure is a follow-up visit to your ophthalmologist the next day so he can check if other floaters are still lurking around your eyes.
Eye floaters often start as a simple nuisance, which can then turn into a major reason for vision impairment. If your eye floater problems keep on reoccurring, you should head out to your doctor immediately to prevent further complications. At the moment, vitrectomy and laser vitreolysis are the only available treatment options. Of these two, the latter is often more preferred by ophthalmologists since its procedure entails lesser risk.
Author Bio: Julian Carter is a farmer of words in the field of creativity. She is an experienced independent content writer with a demonstrated history of working in the writing and editing industry.  She is a multi-niche content chef who loves cooking new things.