Vitis Vinifera Rejuvenating Essence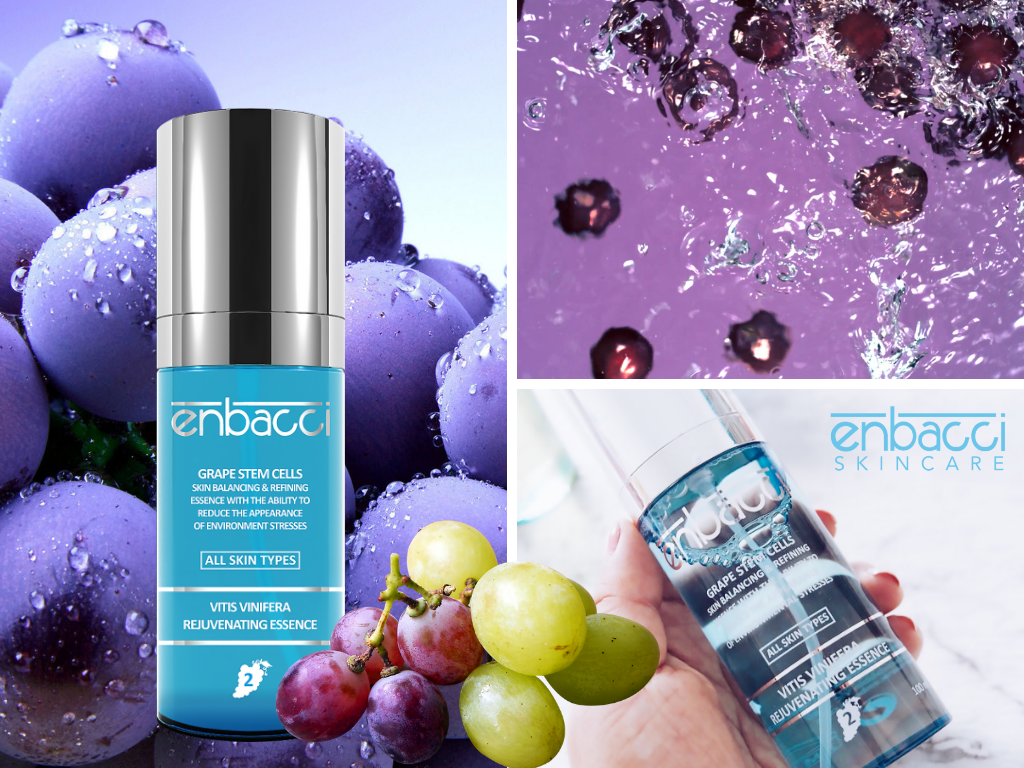 Vitis Vinifera is the scientific name given to the humble grape. Considered a berry, the grape emerges as one of the most rigorously tested botanicals and has been discovered to have substantial anti-ageing properties. As both the skin and seed of the grape offer intense skincare benefits, stem cell extraction involves tiny incisions in the outer structure of the grape and the removal of microscopic cells in the callus – a gel-like covering that forms as the grape attempts to heal itself.  
Humans, animals and plants contain two types of stem cells – embryonic and adult. Embryonic stem cells are capable of changing into any type of cell found in a host environment. Adult stem cells are limited replicating only themselves. As grape stem cells are embryonic in nature, they are a catalyst in helping aged, sun-damaged skin to heal itself.
As 80% of aged skin is the result of exposure to ultraviolet rays, premium Australian skincare brand, Enbacci, harnesses the science of fruit and plant biotechnology to reverse the UV-induced pollutants and free radicals that form on the epidermis and threaten adult stem cells residing in the basal layer of the skin.
Responsible for protecting, maintaining and regenerating the epidermal barrier, the Vitis Vinifera Rejuvenating Essence contains phenolic compounds such as anthocyanins, proanthocyanidins, and antioxidants which are 20 times more effective than vitamin C and 50 times more effective than vitamin E. Combined with proven botanicals such as witch hazel, green tea and aloe vera, the essence offers an instant dose of nourishment and serves to stabilise collagen, reduce redness and inflammation, even skin tone, combat acne and reflect harmful ultraviolet light.
Housed in a misting dispenser that protects the solution from oxygen degradation, the Vitis Vinifera Rejuvenating Essence imparts an instant glow with non-greasy hydration. Suitable for all skin types, the essence is travel-friendly and can be used to refresh makeup throughout the day and control excess oil production as an AM/PM toner. The Vitis Vinifera Rejuvenating Essence retails for $69 RRP (100ml) and is available nationwide at www.enbacci.com and at Enbacci's flagship store in Prahran, Melbourne.