What Is the Job Outlook for People With a Disability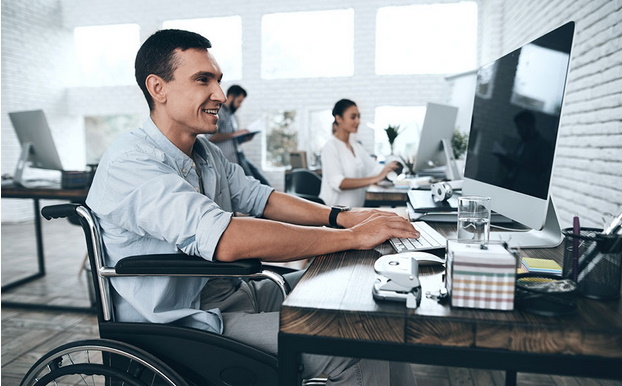 If you have a disability and want to enter the workforce, what are the job prospects like out there? Is there a chance you can find and maintain gainful employment, and what support services are available to help people living with a disability get a job?
In this article, we'll take a look at some job prospects for people with a disability and where you can find assistance in your job hunt. While a person with a disability will face some challenges in finding a job, you don't have to do it alone. There is help available to make things easier and to improve your job search chances. 
Will Employers Hire People With a Disability?
The answer is, yes, they will. In Australia, there is a firm focus on diversity in the workplace these days and that includes hiring people with a disability who are capable of doing the tasks assigned to them. While not every Aussie employer will have job vacancies for disabled individuals, there are certain employers and Australian companies who deliberately diversify their workforce and hire people from all walks of life, as they understand the value this can add to their business.
You can even do a search online to discover which employers regularly hire people with disabilities. Once you've discovered some, you could try emailing them and letting them know that you're looking for work and to keep you in mind should a vacancy become available.
Job Prospects for Individuals With a Disability
The type of work you can do will mainly depend on the exact nature of your disability, but many people who live with physical challenges have found job roles where their disability presents very little hindrance or no hindrance at all.
For example, if you're perfectly capable of doing desk-bound work in an office environment, provided you have the necessary skills or training, there are loads of employment prospects in an office workplace, or even working remotely from home.
Just a few examples include:
Clerical and data entry work

Working in a call centre

Reception and secretarial work

Accounting and financial planning

Banking

Pharmacy assistant

Researcher or research assistant

IT systems management or computer programming

And many more...
Alternatively, you may even be able to start a small business based out of a home office. This way, you don't have the need to travel to and from a job, making life easier and more convenient. It's becoming more and more common for Aussies to either work remotely from home, or set up a home-based business. This is certainly a direction to seriously consider. 
Employment Services and Assistance for the Disabled
As was mentioned in the introduction to this article, there is assistance available to especially help people with a disability to find a job and keep a job.
Disability Employment Services (DES) is one such assistance program you can avail of to help you in your job search efforts.
You have a number of avenues to access the assistance provided under DES, but one of the best is to join a Jobactive provider. Jobactive providers work with the government to assist unemployed people find work and this includes special assistance for people with disabilities.
One of the most important aspects in this regard is to provide support on every level, which includes things like self-development, skills training, along with help to land job interviews and find gainful employment.
Jobactive providers develop relationships with employers and work with you to help you find and keep a job.
Under the Disability Employment Services scheme, the idea is to provide all the support required to assist a person with a disability find a job. DES differs from the more broad-reaching National Disability Insurance Scheme (NDIS) in that DES is totally focused on employment.
Through DES and dependent on the actual level of support required to help you find work, you'll gain access to either one of the following 2 schemes:
Employment Support Service

Disability Management Service
Which support scheme you gain access to will be the result of an assessment you will go through prior to being assigned a support scheme. 
In Conclusion
With the right help, acquiring the necessary skills and approaching the right employers, job prospects for people living with a disability are looking brighter than ever before.