Australian Dragon Boat Championships
Written by

Gonzalo Collarte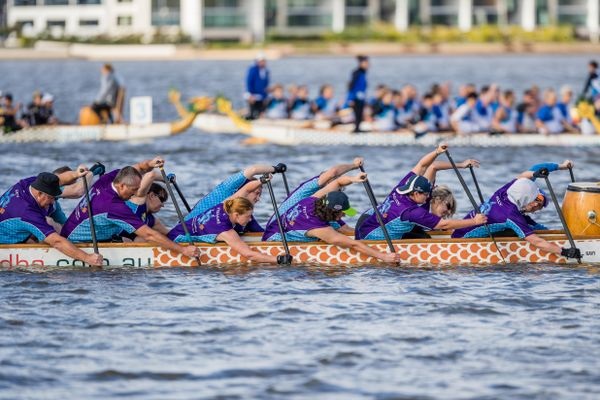 After eight years away, the 2019 Australian Dragon Boat Championships promises to deliver extreme excitement and fun for the +3,000 fans and participants attending.
The yearly Australian Dragon Boat Championships (AusChamps) will be held in the Australian Capital Territory (ACT) from 17 to 22 April 2019 at the Rowing Course in Weston Park, Yarralumla (on Lake Burley Griffin). AusChamps is Australia's premier Dragon Boating event in which clubs from all States compete against one another for the title of National Champion. This event will host around 3,000 competitors from all registered States and Territories of Australia competing across a broad range of categories, with up to 50 clubs racing per day every five minutes during five days.
Coming back to the ACT for the first time since 2011, this edition of the Championships is expected to be bigger and better than previous iterations. "Getting an event of this magnitude properly produced is a big challenge, but bringing AusChamps back to the ACT is a big personal responsibility for all of us in Dragon Boat ACT (DBACT) because we are all Canberrans and we love this fun, rich and culturally diverse international sport" said Kirsty Sheppard, Vice President, DBACT. "We truly want this to be a memorable experience for everyone visiting our beautiful Capital, not only for the thousands of competitors coming, but for all the fans, friends and families from the broader Australian community also attending, everyone is invited, Dragons from all over Australia will be here."
"We will have fast-paced high-intensity races every five minutes during the span of the five days; so if you are a local Canberran, make a personal commitment to stop by and show your support of our local state team, the ACT Fire, I promise you will have a good time" said Nick Sifniotis, Chair, AusChamps 2019 Committee.
The five-day event kicks-off with an amazing opening ceremony on Wednesday 17th of April, 2019, from 3:00 to 4:30pm. A special traditional show and a musical number will take place during this free event, making it an exciting opportunity to meet with family and friends. Members from the government and the local media will be also present. Mark the date, come and experience the power of the Dragons. #DragonsAreComingACT
For more information please visit: www.ausdbf.com.au/events1/auschamps
###
About Dragon Boating
Dragon boat racing consists of teams racing in human-powered fibreglass watercraft dressed with decorative Chinese dragon heads and tails. The standard dragon boats are 12 metres long, weighing up to 250kg, with twenty people abreast, along with a sweep to steer at the rear, and a drummer on the front who drums the pace of the race. Considered one of the oldest sports in the world, conceived in China over 2000 years ago, today Dragon Boating represents a truly multicultural activity practised by +8,000 members in Australia for the 2018/19 season.


About Dragon Boat ACT Association
Canberra Dragon Boat Association (t/a Dragon Boat ACT, or DBACT) is the peak body for the sport of Dragon Boat racing in the ACT and is a member of the Australian Dragon Boat Federation (AusDBF). As the host, DBACT is in charge of organising AusChamps2019, and supports AusDBF with running the event. The ACT previously hosted the AusChamps in 2005 and 2011.


About the ACT Fire squad – State Team
The ACT Fire are Canberra's representative Dragon Boat team, comprising of the ACT's strongest and most dedicated paddlers.  They have grown in strength since their inception and are now a national force, seeing them win seven medals at the 2018 AusChamps held in Queensland.


Event details:
Event: Australian Dragon Boat Championships Canberra 2019 (AusChamps 2019)
Venue: Rowing Course, Weston Park, Yarralumla (on Lake Burley Griffin), Canberra, ACT
Date: 17-22 April 2019
Time: 8am to 5pm
Price: Free
Webs: www.ausdbf.com.au www.dbact.com.au
Hashtags: #DragonsAreComingACT #DragonBoat #TheDragonsAreComing #AusChamps2019