6 simple ways to 'hack' a kitchen on a budget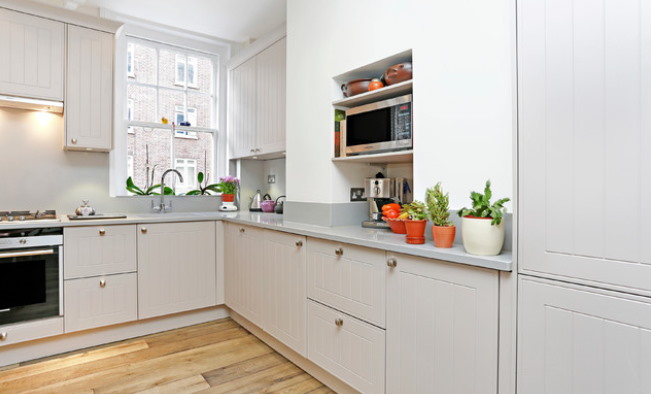 It's supposed to be the most valuable room in the home, but at the same time, most of us don't have the vast budgets needed to renovate it.
Therefore, let's progress into today's guide. Here six so-called hacks that can help you transform your kitchen, without breaking the bank.
Change the doors
What takes up the most space visually in your kitchen? It's the cupboard doors.
Therefore, if your layout allows, changing these can transform the entire look of your kitchen. It will arrive at a fraction of the cost of a brand-new kitchen, but the results will be (almost) as significant.
The alternative: a lick of paint
If you want an even cheaper solution, consider a lick of paint. A lot of cupboard doors can be stripped back and painted, again providing that fresh, new finish that screams new kitchen (but on a budget).
It can be time consuming, but in the art of transforming a room with little expense, this solution is up there with the best.
Go even more granular with the handles
On some occasions, you don't even have to change the cupboards. In some cases, the handles will suffice.
Particularly if you have inherited an older, more traditional kitchen, there is a high chance that the cupboard handles are bordering on antique-esque. As such, get out your screwdriver, and replace them. It's a job that takes minutes, and costs a few dollars, rather than a few thousand.
Add freshness with flowers
This link from Avas Flowers inspired our next suggestion. As the Avas Flowers page shows, it's quite easy to accessorize a room with flowers, and your kitchen can be a major beneficiary. Let's not forget that this is the room subject to all sorts of odors and grime over time, yet flowers can reverse the effects and make it appear fresher in an instant. Here are some more examples, again courtesy of Avas Flowers.
Your appliances can have a similar effect
For those of you looking for a more technology answer to the above, let's turn to appliances. Nowadays, toasters, kettles, coffee machines and everything else that falls in the small appliance category tend to arrive in an array of different colors.
The result? You can add vibrance to your room without even touching a paint brush.
Assess your lighting
This final hack is probably one of the more difficult, as you won't always be able to make the change yourself. However, there's no doubt that lighting can transform any room - and the kitchen isn't excluded.
Whether it's a larger pendant light, or a group of the modern spotlights, consider different lighting solutions. Assess how they highlight different parts of your room, and if you might change the position to 'disguise' the parts which perhaps aren't as aesthetically pleasing.