Guide for Creating a Modern, Eco-Friendly Bedroom for Kids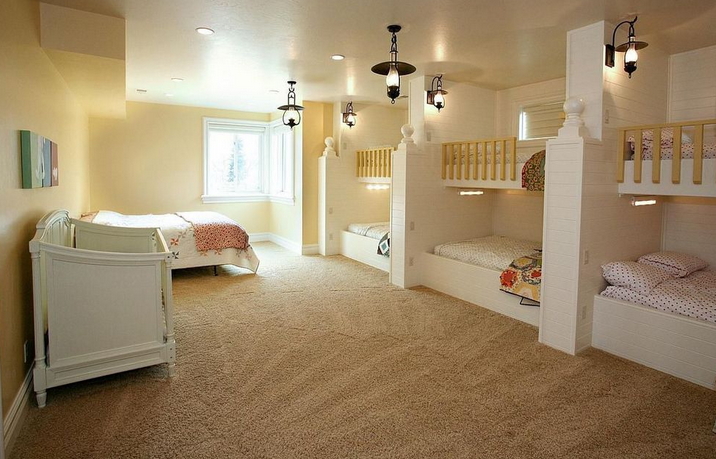 At the moment, children's bedrooms are going through a metamorphosis.
Many parents are favoring a minimalist, sophisticated approach that embraces the monochrome backdrop. This backdrop creates a blank canvas for parents to do whatever theme they want.
The following guide will help you decorate your children's bedrooms while still being as eco-conscious as possible.


Stick to White
Parents love to please their children, and that makes sense, but when it comes to the walls in the rooms, you should try to keep it simple. A child may have some wild ideas about what he or she wants in the bedroom, and some of them can be doable, but don't mess with the color of the walls.
You want to stick to white or off-white colors. The reason you are doing this is because white is one of the most versatile colors out there, and it creates a versatile backdrop that can age with your child.
Your creative child may outgrow what he or she is currently into, so using a bold color now may not be wise. Remember that there are eco-friendly paints available that don't contain the toxins you might find in other paints.


Go for Neutral Flooring
The floors are another thing you need to consider when decorating your children's bedrooms. One of the best looks is natural hardwood floors, but these can be a little expensive. They are also a little hard to maintain, especially for children who are probably not going to observe proper hardwood care.
What you can do instead is get recycled wood floors, which is going to look natural, yet it is not going to cost as much, and you get the satisfaction of knowing that the material is recycled. This goes a long way towards keeping the backdrop as versatile as possible.
The rugs you choose for your child's bedroom should also be eco-friendly, such as those made with wool, organic cotton, jute, seagrass, sisal, and coir. Be sure that the pads are also made out of natural materials, like jute or natural latex. Watch out for rugs with glued-on padding because the glue could contain questionable ingredients, so just go for rugs with a sewn on pad.


Getting Wild With Bedding
You probably chose a good mattress made out of organic and natural materials, but now you have to consider the bedding. Look for high-quality organic comforters and organic sheet sets. Now, you can let your children go wild.
You don't have to get sheets with characters embedded on them because that may not age well, but you can definitely let your child choose the color of the bedding. Strong colors will look great because the room has a neutral feel. Your child's choice might look pretty cool.
You could also choose for your child if you want to make sure the bedding ages well. All you have to do is make sure you choose your child's favorite color, or just stick to neutral colors, and let your child have a say in some of the other furnishings.


Choosing the Right Furnishings
Okay, the background in your child's bedroom is pretty bland. This means the color has to come from the furnishings. Now, when you purchase furnishings, you can be flexible.
If your child wants a lamp with his or her favorite cartoon character, you can allow this because replacing a lamp doesn't require too much money. Now, storage cabinets, chairs, and tables should be a little more evergreen. It is important to remember that evergreen doesn't mean boring.
What you want are choices that feel bold and timeless. Choose natural wood cabinets, seats, and tables. You can choose eco-friendly items made from reclaimed or recycled wood.
If your child doesn't want this or wants furnishings a particular color, that is okay, too. Just try to make sure your kid sticks to a solid color so that these items can be easily re-painted when he or she wants a change.


Adding Child-Friendly Accessories
Your child is going to love this part because it is here where he or she gets to add personal touches to the room. If your kid loves to go boating, then why not purchase an old small canoe and restore it? Make sure its safe, and use that to make a couch in the room.
Yes, this idea is a little more stylistic, but it will make your child's room stand out. Let your child add other things to the room that are a bit more fun, like stuffed seats or other similar things.
You can put up artwork from your child's favorite movie or show. You can let your child choose a quilt that has a favorite character on it, as long as the quilt is made ethically and uses organic materials, like your bedding, and avoid synthetic materials, such as polyester that has been known to cause allergies.
Hopefully, this guide makes it easier for you to decorate your child's bedroom. The key here is to balance your child's ideas with yours, and make sure the major aspects are not guided by your child, whose taste may change with age.