Search Funds: The New Investment Concept for Entrepreneurs Hitting Aussie Shores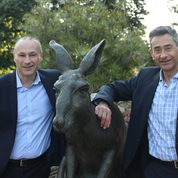 There's a new investment concept emerging in Australia offering opportunities for talented entrepreneurs wanting to take the helm of a successful business, as well as investors looking to back a person rather than a deal.
Search funds are supported by a well-established community in the United States and Europe yet are largely unheard of within the Australian market.
Australian search fund advocates Ak Sabbagh and Lui Pangiarella believe the model has great potential here due to the large number of successful baby boomer businesses that require both succession in the coming years and/or a new injection of knowledge, enthusiasm, and funds to take them to the next level.
"We are spreading the word that this concept is a viable and exciting investment opportunity in Australia," said Mr Sabbagh.
"At its core, a search fund takes successful and aspiring leaders into established operating businesses," he said.
The search fund model involves:
An entrepreneur aspiring to run their own business (the "searcher") who raises initial capital from investors to fund a targeted search (which can take anywhere from 12  to 30 months).
The searcher works with those investors over the course of their search and then seeks additional capital from them, and potentially others, for an acquisition once a suitable target is found.
Following the acquisition, the searcher takes over as CEO and runs the acquired company with the objective of creating value for themselves and their investors.

Perth-based Mr Sabbagh and Mr Pangiarella are introducing the model to the Australian investment market through their accelerator business, Second Squared. 
This accelerator, unlike others, puts the development of the future business owner at the core of the process, not the development of a new app, product or start-up business.
"Buying an established, operating business that allows the entrepreneur to play to their strengths is less risky than a start-up," said Mr Pangiarella.
"I've lost count of the number of times I've heard executives say they want greater control and ability to run their own business. There hasn't been the mechanism to get into a business that will actually suit them," he said.
Mr Pangiarella and Mr Sabbagh are proposing search funds, and the community or "eco-system" that supports them, as part of the solution.
"Search funds are unlike the start-up or technology-based accelerators or incubators. The majority of those start-ups simply don't get off the ground or fail within the first three years," said Mr Sabbagh. 
There are four key parts to a search fund community:
Searchers:They are good at growing value in businesses. They may have completed an MBA and want to apply what they have learnt directly;  or Australians working overseas who want to return but there aren't the opportunities at the right level;  or people who no longer want to be in the corporate world but don't know any way out without risking their livelihood.  They don't want to do a start-up, they would rather make a good company great. The right opportunity could take up to two and a half years to secure, and during that time they need funding to live on. In some cases they want the investor be a mentor and advisor. 
Investors:They see value in funding the person because they believe it's the owner that creates enduring value in business. They invest in the right person by giving them financial backing during their search and help analyse to buy the right business. Investors have an appetite for risk and are in it for the long-term.
Advocates and Supporters: They will help searchers in some way through their journey into and during business ownership.  They mentor, consult, and advise searchers and investors and also connect them to organisations that may need to transition.
Organisations that need to transition: There are many long-running businesses whose owners have no way of exiting apart from closing down. This is because Australian business culture is not one of handing businesses from one generation to the next. These businesses could take advantage of new ways of doing business. Recent research highlights that 1 in 4 Australian workers are currently employed in one of these businesses.

Search funds have been operating in the US for over 30 years and have grown into Europe, Latin America, and Africa. The director of Stanford Graduate School of Business' Centre for Entrepreneurial Studies, H. Irving Grousbeck, pioneered the investment model popular at the Harvard Business school and popularised through the MBA programs at Stanford University.
Second Squared is actively seeking, and screening, talented and driven entrepreneurs to join its first cohort of searchers in 2019. Mr Sabbagh and Mr Pangiarella will be holding workshops across the country in the coming months for interested parties.
For further information visit: www.secondsquared.space
Second Squared

Second Squared is a business ownership accelerator with a difference. Rather than focusing on new products or technology Second Squared is primarily focussed on the core element of business success - the entrepreneur who wants to own an already established business. 
Lui Pangiarella and Ak Sabbagh work with aspiring business owners to get clear on their ultimate goals, their passion and capability, fears, blind spots and gifts. They work with them to develop the skills to accelerate their process of finding and acquiring a business that is right for them and connect them to the necessary people and resources they need along the way.
Lui Pangiarella
Lui is an experienced facilitator, executive coach and company director with a focus on organisational performance, strategy, culture and leadership development.
He has over 20 years' experience in mergers, acquisitions and integrations, project management and finance firstly within the Wesfarmers Group of companies and later as a consultant. Lui's experience spans industries including hardware retail, transport and logistics, fertiliser and chemicals manufacturing and distribution, heavy construction and insurance.
Lui graduated from Curtin University with a Bachelor of Commerce with Honours. He is a Chartered Accountant and a Graduate of the AICD Company Directors Course.


Ak Sabbagh
Ak is an experienced business owner and founder, board advisor, director, corporate and business coach. He plays a pivotal role in enabling leaders across a diverse range of sectors realise their growth objectives, transition their businesses to the next phase of development and achieve challenging commercial objectives.
His experience has led him to be invited as a keynote speaker on a variety of specialist topics including leadership and employee engagement, brand positioning, product and channel development, the role of the CEO, and growing the value of assets.
He is the founding President of the European Mentoring & Coaching Council (Asia Pacific Region), established in July 2018. 
His less recent history includes over two decades of working in business growth and development with corporations like IBM Australia, Ernst & Young, PMP Ltd, and a number of mid-tier businesses in the IT&T industry.
He is a graduate of Canberra University and of the AICD Company Directors Course.