How the West discovered the Buddha
Written by

Philip C. Almond, Emeritus Professor in the History of Religious Thought, The University of Queensland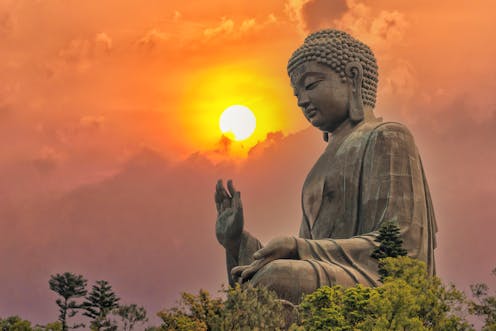 Buddhism is the third largest (and fastest growing) religion in Australia with approximately half a million adherents.
The celebration of the Buddha's birthday here (on or around May 15) has become a major cultural event and the Buddhist doctrine of "mindfulness" is now a part of mainstream culture. But how and when did the West discover the Buddha?
The facts about the Buddha's life are opaque but we can assume he was born no earlier than 500 BCE and died no later than 400 BCE. He was said to be the son of an Indian king, so distressed by the sight of suffering that he spent years searching for the answer to it, finally attaining enlightenment while sitting under a bodhi (sacred fig) tree.
The Buddha's family name was Gotama (in the Pali language) or Gautama (in Sanskrit). Although it does not appear in the earliest traditions, his personal name was later said to be Siddhartha, which means "one who has achieved his purpose". (This name was retrofitted by later believers.)
According to Buddhist tradition, the Buddha spent 45 years teaching the path to enlightenment, gathering followers, and creating the Buddhist monastic community. According to the legend, upon his death at the age of 80, he entered Nirvana.
In India during the 3rd century BCE, the emperor Ashoka first promoted Buddhism. From this time on, it spread south, flourishing in Sri Lanka and Southeast Asia, then moving through Central Asia including Tibet, and on to China, Korea, and Japan. Ironically, the appeal of Buddhism declined in India in succeeding centuries. It was virtually extinct there by the 13th century.
Wikimedia Commons
In that same century, the Venetian merchant Marco Polo gave the West its first account of Buddha's life. Between 1292 and 1295, journeying home from China, Marco Polo arrived in Sri Lanka. There he heard the story of the life of Sergamoni Borcan whom we now know as the Buddha.
Read more https://theconversation.com/friday-essay-how-the-west-discovered-the-buddha-182140