The 'Year of the Pig' is set to be celebrated at AccorHotels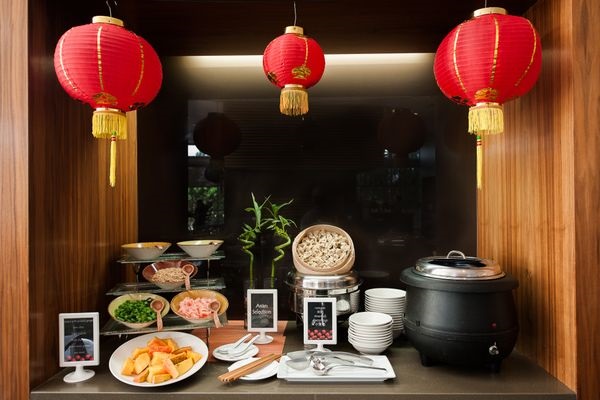 The 'Year of the Pig' is set to be celebrated at AccorHotels across Australia from this February as tourists flock to Australian shores to celebrate the Chinese Lunar New Year from 5 February 2019.
The two-week festival will see selected AccorHotels, from ibis to Sofitel, decorated with red lanterns, tea stations, and bright floral displays and offer guests special dining menus. Upon check-in, guests can expect to see front office staff dressed in traditional costumes and red envelopes with chocolate gold coins at many hotels, while lion and dragon dancing will be a highlight at some.


HOBART
Ibis Styles Hobart is celebrating Chinese New Year at Mr Good Guy with a grand banquet dinner on Tuesday 5 February. Priced at $78 per person or $63 per person for AccorPlus loyalty members (with a minimum booking of 2 people). Mark this special occasion with a feast of dishes with modern Chinese flavours mixed with Mr Good Guy classics featuring local produce, meats and seafood. Bookings are essential phone 03 6289 8500 or email mrgoodguy.hobart@accor.com

ADELAIDE
Begin Chinese New Year 2019 celebrations in style at Pullman Adelaide. The hotel's signature restaurant, Salt will host a traditional three-course banquet on 5 February from 6pm, to usher in the Year of the Pig. Take delight in a specially crafted set menu featuring classic dishes accompanied with a selection of non-alcoholic and alcoholic beverages, including premium Chinese beer. The three-course banquet including a welcome drink is priced at $65 per person. To book your table, phone Salt restaurant on (+61) 8 8206 8828.


GOLD COAST
To celebrate Chinese New Year, Novotel Surfers Paradise is offering daily Chinese menu items in addition to the regular Seafood Buffet hosted in Hanlan's Restaurant. Guests will enjoy the flavoursome rotating items presented on an authentic Bamboo Tower display. The Seafood Buffet is priced at $59 per adult inclusive of the Chinese Food items. Children are $1 per age until they are 12 years old and then full price will apply. For more details and to make a booking phone 07 5579 3499.


SYDNEY
Guests are in luck this February at Pullman Sydney Hyde Park as to celebrate Chinese New Year the hotel is offering a Taste of Asia at Bar Rendezvous and Cafe Thirty6 from 4-12 February. The curated tasting plates include classics such as duck spring rolls, pork bao and chicken dim sum, and a mouth-watering prawn and sesame roll served with red wine vinegar, shallot and ginger puree. The tasting plate is served with a notorious Singapore Sling cocktail which combines gin, cherry brandy and pineapple juice. The Taste of Asia tasting plate and cocktail is priced at $25. For more information visit pullmansydneyhydepark.com.au 


CAIRNS
Celebrate the year of the Pig at Pullman Cairns International with the famous North Queensland Seafood Feast in Coco's Kitchen + Bar. On Tuesday 5 February, guests can enjoy this wonderful feast with culinary delights including steamed Queensland Gulf Tiger Prawns, Chinese Sticky BBQ Pork Char Sui, fresh local steamed fish served with sautéed Asian greens and the ultimate indulgence of pasty delights handmade by the hotel's award winning team of pasty artists. All this can be enjoyed for only $75 per person. To book phone 07 4031 1300 or visit https://www.pullmancairnsinternational.com.au/en/special-offers/chinese-new-year-2019.html

MELBOURNE
Celebrate the Year of the Pig at Hop Sing Bar & Food at Mercure Melbourne Treasury Gardens. From 5 – 19 February, indulge in pork and water chestnut dumplings, shredded pork spring rolls and pork belly bao to complement the restaurants regular Asian-fusion menu. Sip on a Chinese New Year cocktail, specially curated to accompany the delicious pork dishes. The hotel will add pork dumplings and BBQ pork buns to their breakfast buffet, and hotel guests will be blessed with good fortune throughout their stay with small tokens of gesture. For more information visit mercuremelbourne.com.au
 Look forward to new adventures in lavish Pullman style overlooking picturesque Albert Park Lake at Pullman Melbourne Albert Park. The hotel will offer a 'Year of the Pig' special menu with a refined selection of modern Chinese dishes, including twice cooked sticky pork belly, crispy skin duck breast, steamed shelled scallops and a decadent deep fried  ice cream with lychee and raspberry. Menu starts from $12 per dish and are available from 4 – 10 February. On Saturday 9 February, indulge in a Chinese New Year Seafood Buffet, featuring an impressive array of seafood, dim sum station, roast pork with crackling, salad and hot buffet alongside an extensive dessert selection. Priced at Adults $95 | Teenagers between 13-17 $65 | Children between 5-12 $45. AccorPlus members $85 per adult. Visit pullmanalbertpark.com.au

WESTERN AUSTRALIA
Celebrate a New Year of new adventures at Pullman Bunker Bay Margaret River's Chinese New Year buffet. On Tuesday, 5 February Windmills Room will host a Chinese New Year feast from 6pm that includes traditional appetisers, fresh seafood, a noodle station, hot buffet and carvery station - all complemented by a decadent display of Asian-inspired desserts from Pullman's Michelin-star experienced pastry chef Romain Lassiaille. Priced from $75 per adult. Bookings are essential, phone 08 9756 9106 or email h8775-sb1@accor.com.  
Chief Operating Officer AccorHotels Pacific, Simon McGrath, said: "Chinese New Year is always a special time of year for hotels and our guests, and it is pleasing to see so many of our hotels going to great lengths to celebrate 2019's Year of the Pig.
"Chinese New Year celebrations are an extension of our Chinese Optimum Service Standards program in partnership with China Ready & Accredited, which enables our hotels to better cater for the growing Chinese inbound travel market.
"The trend of strong inbound growth from Greater China continues to have a positive impact on our hotels and we've experienced a growth of over 160% YOY in online room nights booked by outbound China travellers. The growth through these channels reflects the trends from the Chinese market as we experience a surge in free independent travellers (FIT) and a shift away from the traditional shopping tour groups. This is exciting news for our hotels particularly out in regional areas of Australia as the FIT traveller is more confident to venture off the beaten track and go to places not frequented by large numbers of tourists."
The Optimum Service Standards program includes training for AccorHotels staff in cultural differences, Mandarin speaking staff, translated welcome kits, Chinese dishes included on menus and mini-bar products, Chinese location maps, newspapers and television channels. UnionPay is also accepted at a number AccorHotels which enables guests to conveniently settle their room account with their domestic debit banking card.